Features
Weekly Calendar/Notepages
Click image to enlarge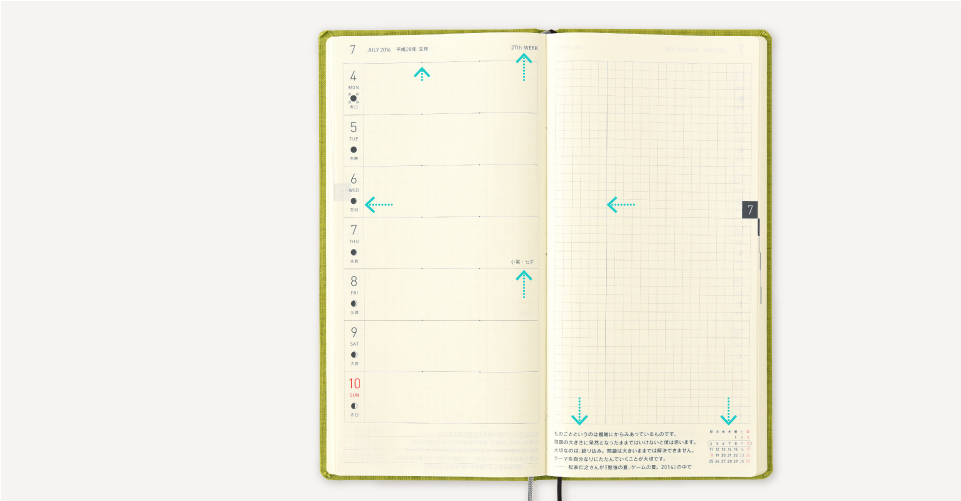 Two-dot timeline
In order to facilitate the most efficient use of the limited space in each day, we've included two subtle dots to split each day into morning, afternoon, and evening. You can use these however you see fit, however, such as splitting the three sections into morning, night, and free-space, or disregarding the dots altogether.
Week numbers
The daily pages include the number of the week. The formula we use begins with the first week in January that includes a Thursday.
Moon phase and Rokuyo (Traditional Japanese calendar)
An illustration of the current moon phase is paired with the day of the year. The new moon (●) and full moon (○) symbols are surrounded by stars at their peak.
Solar terms (Japanese)
This section lists the names of solar terms that make up the 24 points in traditional East Asian lunisolar calendars. *There is an explanation of these terms listed in the extra pages in back (Japanese only).
Free space
The free space is split into three sections to allow users to write down goals and commitments for the week.
Memo page
The right page on each weekly spread contains blank graph paper to give full reign to users when drawing out plans or writing out schedules. You can also draw lines across the page to correspond with each of the seven days on the left to give yourself more writing room. At 3.54 millimeters, the graph paper is slightly smaller than that of the daily planners.
The "Secret Line"
There's also something we call the "Secret Line": a vertical line on the memo page that allows such things as topics on the left and details on the right, or drawing out visual timetables and plans. The line is printed lightly enough that you can ignore it when using the page as a whole.
Weekly quotes
Each weekly spread features a quote handpicked from the contents on Hobonichi's website.
Mini calendar
The daily pages also include a mini monthly calendar at the bottom right of every two-page spread. The current week is outlined.