Features
Hobonichi Techo 'Weeks' Features
Click image to enlarge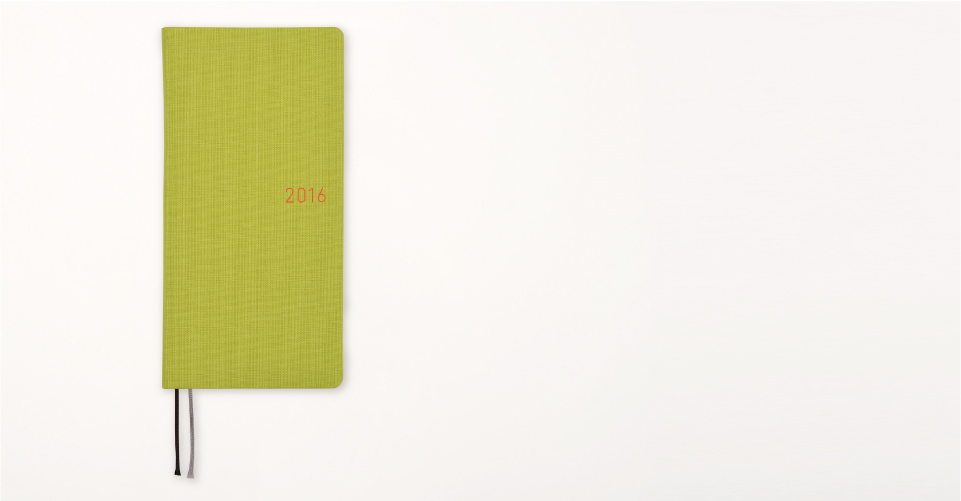 One week spread format
The WEEKS is the weekly version of the Hobonichi Techo. The left page features all seven days of the week, while the right page contains convenient graph paper that makes it easy to draw out columns, jot things down, and rearrange your notes and plans.
Wallet Size
The WEEKS is about the size of a ladies' wallet. It may look slim, but the surface area of a page is actually nearly the same as the A6 Hobonichi Planner.
Thin and light
Even at 240 pages, the WEEKS is incredibly compact. It's 10mm thick and weighs under 5oz, making it effortless to keep on hand.
Room to write
The WEEKS is filled with blank memo pages. There's one on each of the 52 weekly spreads, and the latter half of the book is filled with 75 more memo pages.
Tomoe River paper
The techo pages are printed on a thin, light paper called Tomoe River paper that's strong and resistant to bleeding – an ideal choice for a planner. The cream-colored paper softens direct sunlight, making it easy to read even outside.
Weekly quotes
From the heartfelt to the humorous to the whimsical, each weekly spread features a quote specially selected from the techo's parent site, Hobo Nikkan Itoi Shimbun. The quotes for the WEEKS version are only in Japanese. If you would like the quotes in English, please buy the day-per-page A6-size Hobonichi Planner.
Use as-is, or buy a cover
The 2016 WEEKS lineup includes 25 cover designs, most of which are attached to the book. Even after you pick out your favorite design, there are empty WEEKS zipper covers or passport-style covers that hold your book and let you change things up and have lots of pockets.
Hobonichi Japan Railway Map
Included with every WEEKS is this sturdy, foldable map that covers the railway coverage of some of Japan's largest cities: Tokyo, Osaka, Nagoya, Fukuoka, Sapporo, Sendai, Kamakura, and Hiroshima. The map is incredibly detailed, as Hobonichi revises it every year with the help of crowd-sourced checks by Hobonichi readers. The writing is all in Japanese.