Welcome to the world of the Hobonichi Techo.
Hobonichi Planner
Creative direction by 「ARTS&SCIENCE」
The Hobonichi Techo is a page-per-day notebook with an unobtrusive yet supportive layout that makes its daily pages ideal for writing plans, doodling, pasting event tickets or scraps, and filling with any whims that come to mind. It is one of the most popular daily planners in Japan with 550,000 users, and the Hobonichi Planner is its English counterpart that first joined the lineup in 2013.
Directing the production of the English planner and ARTS&SCIENCE covers is ARTS&SCIENCE owner Sonya Park, who spent two years carefully fine-tuning elements that made the Japanese version a success into a global edition so that users around the world can enjoy the unique, easy-to-use design perfectly suited for combining work plans and personal writings in one place.
With the Planner now being used by people in 69 countries around the world, the 2016 edition includes design improvements made in response to customer input.
A simple, refined design.
The Japanese characters for techo, along with the ARTS&SCIENCE logo, are stamped in gold on this chic, textured black cover with a matte finish.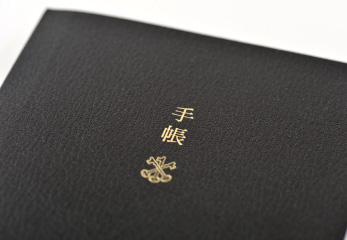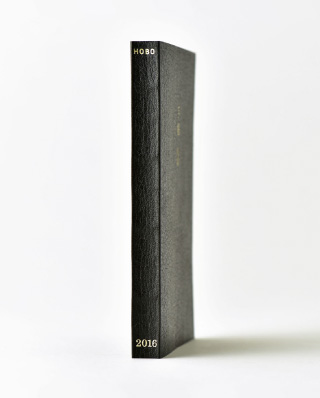 The simple design of the daily pages maximizes creative freedom and ensures the planner is easy to use, anywhere in the world. Only the 12 is marked on the optional, subtle timeline column to specify noon, and a meal icon at the bottom provides a place to write dinner plans or other ideas.
Each two-day spread features a quote from ARTS&SCIENCE owner Sonya Park or an English translation of an excerpt from the Hobo Nikkan Itoi Shimbun website.


The 2016 edition welcomes
its fourth year with new features.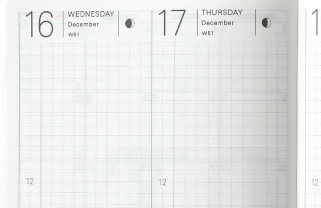 Pages start on
December 16th, 2015
Pages dated before or after 2016 are in a compact, two-day-per-page format. In last year's edition, the Hobonichi Planner began on December 24th of the previous year, but the 2016 edition will begin on December 16th to allow users to get an earlier start on their book. The book also includes pages for January 1st to the 8th of the following year, so feel free to use these additional pages when arranging plans for the new year.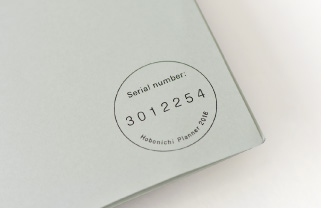 Each book has
its own serial number.
The 2016 edition introduces the use of serial numbers on the inside back cover to give each techo a unique identity and make your techo your very own special book.
Playful and practical appendix pages
in the back of the planner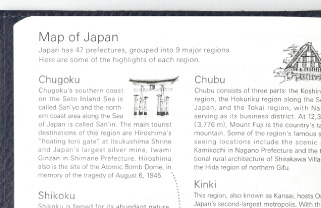 A map of Japan to introduce
famous areas and events
This map of Japan introduces each region
and prefecture of Japan, illustrating highlights,
popular festivals, etc. for learning new facts
or planning a trip to Japan.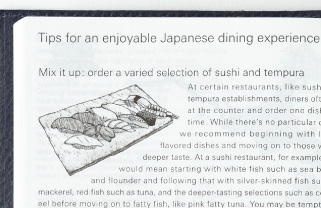 Suggestions for Dining in Japan
provides visitors with tips
for enjoying the experience
This guide contains useful information when
dining out in Japan, including basic manners,
insider tips, and general things to keep in mind.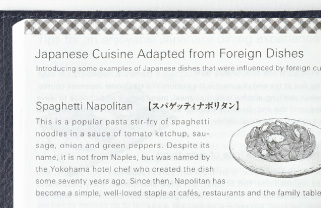 Japanese cuisine adapted
from foreign dishes
Everyday staples of Japanese cuisine,
such as ramen and curry rice, that were
originally introduced from other countries.
We've kept everything that makes
the Japanese version great.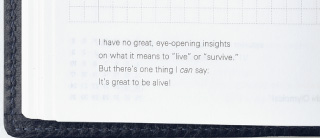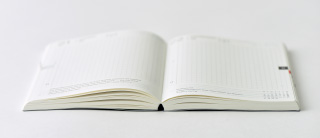 -One page per day
-A6 Japanese paperback-size book
-Daily quotes translated into English
-High quality Tomoe River paper ideal for planners
-Lay-flat binding
*The English Hobonichi Planner is only available in a January-start edition.
All new, exclusive cover designs
by ARTS&SCIENCE.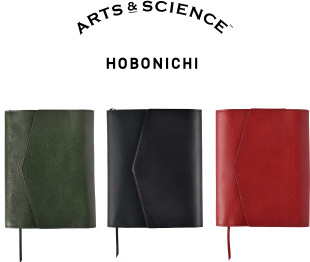 The 2016 edition features a leather trifold cover that
Sonya Park designed to flip open and closed with ease.
The magnet fasteners allow the cover to stay closed,
but you can comfortably flip open your notebook
with this playful, casual design.
The ARTS&SCIENCE covers use sturdy cow leather
tanned with vegetable peel and fruit extracts by an
artisan in Tuscany, Italy to create a lasting material
that will gradually change color and feel over time
as it uniquely conforms to its user.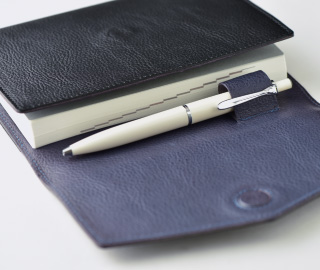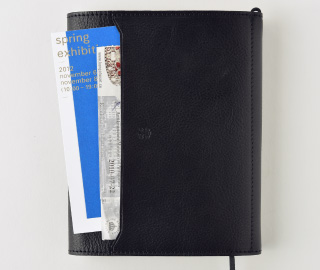 The inner pockets are cut into the leather in a simple,
sleek design, with the logos of ARTS&SCIENCE and
Hobonichi embossed into the leather.
*In order to allow customers the enjoyment of all-natural leather, it has been processed in a way that retains its original feel. Any potential imperfections will smooth out with continued use.
*Covers may contain subtle vein marks or surface irregularities.
*The color of the leather may bleed when it gets wet.
Hobonichi Planner Lineup
The new trifold covers come in 6 colors (3 of which are exclusive to A&S shops).
A&S-shop exclusive covers use three different colors and materials around the cover.
A&S covers can be bought cover-only or as a set with the English book.
(This cover will also fit the A6 Japanese 'Original' or 'Original avec' techo book.)
*All prices include sales tax and exclude shipping.
Covers only available at ARTS&SCIENCE shops
Hobonichi Planner


Black x Navy x Black

Book & Cover set:

30,780 yen

Cover Only:

28,080 yen

Hobonichi Planner


Wine x Dark Brown x Wine

Book & Cover set:

30,780 yen

Cover Only:

28,080 yen

Hobonichi Planner


Dark Brown x Black x Wine

Book & Cover set:

30,780 yen

Cover Only:

28,080 yen
ARTS&SCIENCE
ARTS&SCIENCE is a select shop headed by creative director Sonya Park. The first store opened in Tokyo's Daikanyama district in 2003, and has since expanded to eight locations in Tokyo, one in Kyoto, and one in the Galerie Vivienne in Paris.
Each shop offers a wide variety of high-quality items designed to bring luxury to life—from an original clothing line to essentials like linen, tableware and food products.
http://www.arts-science.com/