This product has sold out. There will be no restock.
Hobonichi Planner
Dark Navy
This zipper-type cover designed in collaboration with ARTS&SCIENCE has been greatly simplified into a slim but functional design constructed of vegetable-tanned leather from an artisan in Tuscany, Italy. It is an incredibly durable and dense leather material similar to that used in belts. The deep navy of this cover has a refined, mature charm that fits any setting. The simple design of the leather showcases its unique texture.

Pencil Board
In lieu of a bookmark, this cover includes an original ARTS&SCIENCE pencil board to hold your place and provide a sturdy writing surface under each page.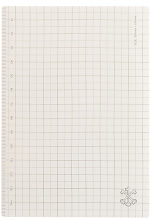 This product has sold out. There will be no restock.
Cover
Book
'Hobonichi
Planner '
A6 (4.1"×5.8")Starting on
Monday

34,020 yen (incl. tax, excl. shipping)
Will ship in 1-3 business days

A6 (4.1"×5.8")
One page per day
January start date
English-language
Cover &
pencil board

31,320 yen (incl. tax, excl. shipping)
Will ship in 1-3 business days

Includes ARTS&SCIENCE Pencil Board
Specifications
Cover
Size (Cover & Book combined)
Width: 187mm (excluding pen holder) x Height: 142mm x Thickness: 24mm (7.4" x 5.6" x 0.8")
(Specifications may vary slightly)
Weight
Approximately 160g
Main material
Tanned cow leather
ARTS&SCIENCE pencil board
| | |
| --- | --- |
| Size | Height: 150mm x Width: 105mm (5.9" x 4.1") |
| Weight | 6g |
| Main material | YUPO Synthetic Paper |
| Processed | Matte Polypropylene Coating |
Please Read Before You Buy
In order to provide you with the most satisfaction for your product, we've compiled a list of warnings, potential issues, and tips to keep in mind for this particular product. Please be sure to read this information carefully before placing your order.
All covers are hand-made and may contain slight variances

Each and every cover is individually sewn by a factory worker hand-operating a sewing machine. Best efforts are made to ensure consistent sizes and specifications, but as these products are hand-made, covers are not made as exact copies.

Leather covers may contain wrinkles and marks

In order to allow customers the enjoyment of all-natural leather, the leather is processed in a way that retains its original feel. This may leave imperfections visible on the surface of the cover, such as wrinkles, scratches, stains, or vein marks. Depending on the conditions in which the cover is used, natural oils of the leather may emerge and appear as wrinkles.
We ask for your understanding for these naturally-occurring characteristics of genuine leather.


Leather coloring stains

The leather used in these covers does not contain color protectant. You can expect some of the leather dye to slightly stain the corners of your planner book. Please note that coloring will cause stains to other objects if the leather adheres to or rubs against them, so please use caution.

Pen holder may hit zipper when closing

The zipper pull may rub against the pen holder inside the cover upon closing, especially when there is no pen in the holder.

Maximum pen width for pen holder

The pen holder is designed to comfortably fit a pen with a diameter of 11mm (0.43"). The cover can store a pen with a diameter of up to 12mm (0.48"), but pens with certain shapes and materials may be difficult to pull through the holder.

About the bulge in the cover exterior

Several layers of leather are gathered around the sewn pen holder area, leaving a slight bulge showing through the exterior of the cover. This protruding spot rubs against things more easily, leaving a shiny area. There may also be shiny areas from the production process, so please keep this in mind.

Stitching around cover edges

We ask for your understanding in regards to unavoidable dents around cover edges from the sewing machine.

Bookmark not included

This cover does not contain a bookmark.

Sliding no-slip pens into the pen holder

Hobonichi Techo covers come with pen holders. Depending on the material of the cover, pens with rubber grips may be difficult to slide into the holder.

Overstuffing the cover may result in tears

This cover is designed to store tools, documents, and other stationary together with the planner book. Attempts to close the cover when it contains too many items may damage the fasteners or material. Please avoid storing more than the cover can hold, so it can close easily.

If your cover gets wet

Immediately dab your cover with a dry cloth if it gets wet. Avoid drying it with high temperatures, and place it in a well-ventilated place in the shade.

Avoid storing in hot and humid places

Please avoid storing your cover in hot, humid places or placing it on potentially adhesive substances for long periods of time as this may result in lower product quality and color stains.