Hobonichi Store Exclusive Bonus
When you order the Japanese-version Hobonichi Techo books or select covers online through the Hobonichi Store, you will receive a free bonus that works great alongside the techo.
*The English Hobonichi Planner book does not contain a free bonus.
*Included bonus items vary by product.
*Bonus items are included with each eligible product, so if you order several items, each will include its own bonus.
Hobonichi
Mini Tissue Holder
Lightweight, soft silicon
Eligible products

Original book
avec books
Cousin book
We've created this original mini pocket tissue holder to make it a bit more fun to carry it around. There are four randomly-assigned colors to collect. We'll surprise you with one of the four bright, cheerful colors, all easy to spot from inside your bag. The opening is curved into a smile and provides easy access. At first glance, the holder is a very simple design, but the weight, shape, and overall composition are all carefully designed to make it easy to use. The 2016-version holder contains some size tweaks to make it easier to insert and pull out tissues. The soft silicon material is the same as that of the SSACK Hobonichi Techo covers, which are durable and easy to clean with water.
1 Available in navy, lime green, light blue, pink-red. Also for sale in the Hobonichi Store.
2 Contains the same trademark smile as the smile pocket in the Hobonichi Techo covers.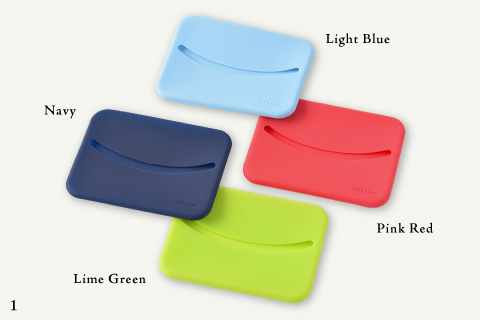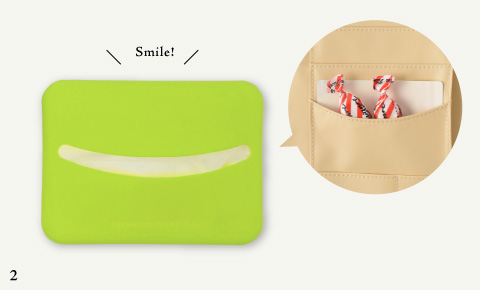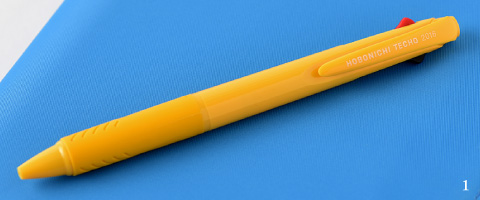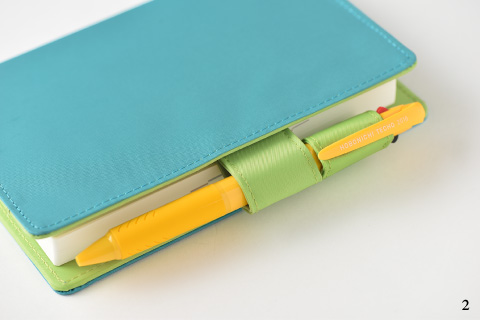 The highly-acclaimed
3 Color Uni Jetstream
Ballpoint Pen
Lightweight with smooth writing
Eligible products

Original book
avec books
Cousin book
Weeks book
This bright yellow Uni Jetstream retractable pen by Mitsubishi contains the Hobonichi Techo 2016 logo and comes in three colors: black, red, and blue. The 0.5mm pen tip writes incredibly smoothly on the Tomoe River paper, and refills are available in all three colors in the Hobonichi Store.
1 The pen body color changes every year. The 2016-edition is bright yellow.
2 The pen fits perfectly in the pen holders of the Hobonichi Techo covers.
A6 Original Cover on Cover
for quick and easy total
customization
Eligible products

Select A6 Original covers
The Cover-on-Cover is great for not only protecting your cover from smudges and scratches, but framing your favorite photographs and illustrations onto your cover at any time for rotating customization. You can transform the look of your cover just by inserting a single postcard into your Cover-on-Cover while still accessing the inner and outer pockets. This free gift is included with select covers in our Hobonichi-brand A6 Original size cover lineup. You can see whether this gift is included by checking to see if it's listed on the cover's product page.
A6 Original covers series:
Colors / Carreaux / Kanga / Knit & Brooch / Red Indian Rhino / Mother 2 Cast / Mother 2 Saturn Valley
1 Protects your cover from smudges and damage
2 Still allows access to interior pockets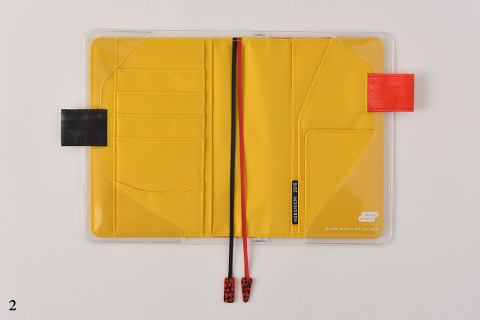 Specifications
Hobonichi Mini Tissue Holder
| | |
| --- | --- |
| Size | 4.7"x 3.5"x 0.3" ( 120 mm x 90 mm x 7 mm ) |
| Weight | 33.8 g |
| Country of origin | China |
Uni Jetstream 3 Color Ballpoint Pen
Size
0.48" diameter x 5.7" length ( 12.2 mm x 144 mm )
Weight
11 g
Specifications
3-Color ballpoint pen with black, red, and blue ink Original Hobonichi-branded Uni Jetstream by Mitsubishi Clip contains Hobonichi Techo 2016 logo
Notes
Compatible with SXR-80-05 uni ink refills.
Ink comes in black, red, blue, and green.
Black, red, and blue are for sale in the Hobonichi Store.
Country of origin
Japan
Cover on Cover
| | |
| --- | --- |
| Size | 10.1" x 7" ( 257 mm x 177 mm ) |
| Weight | 22 g |
| Materials | Silk print |
| Notes | Contains opening to access back outer pocket |
| Country of origin | Japan |
Important Information
About the Hobonichi
Mini Tissue Holder
Storing your holder
Please keep out of direct sunlight and away from heat sources as it may result in discoloration, distortion, or deterioration.
About the smell of silicon resin
The silicon material is processed to remove the smell, but some of the smell may linger in the very beginning. Please use the product as usual, and the smell will fade over time.
Cleaning instructions
You can wash the silicon material by using a soft sponge or cloth and wiping it with neutral detergent.
Black dots on the product
Small black dots may be visible on the product. Please note that these are unavoidable occurrences during the silicon material's manufacturing process.
About the ink in the bonus pen
The bonus 3-Color Jetstream ballpoint pen contains ink that writes smoothly, but compared to other oil-based inks, it is not as strong against humidity. Depending on the conditions in which you store your book, the ink may bleed through the paper over an extended period of time. Please avoid storing your book in humid and wet areas. Ink may also bleed through the paper if applied unusually thickly.
Bonus pen refills in the Hobonichi Store
The bonus Jetstream 3-Color pen can be refilled with the Uni Jetstream SXR-80-05 ink, also for sale in the Hobonichi Store for 86 yen.
Using the Cover on Cover
The PVC plastic of the Cover on Cover may lose elasticity and become difficult to put on when left in cold temperatures. If this happens, we recommend letting the product sit in a warm area before applying to your cover. Please be careful when handling your Cover on Cover in cold temperatures, as it becomes more susceptible to damages if dropped or handled roughly.