Carry a whole drawer with you everywhere you go! The Drawer Pouch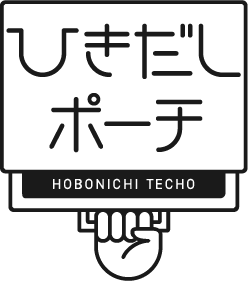 11 Designs
for the Small Drawer Pouch &
Large Drawer Pouch
We created the Drawer Pouch with the vision of carrying an entire drawer with you everywhere you go.
The Drawer Pouch comes in 3 sizes: Small, Large, and Áne (AH-nay). This spring, we're introducing new designs for the Small and Large sizes. Many of these designs have matching covers in the Hobonichi Techo 2019 lineup, such as Suki-Usagi, Mother 2, and minä perhonen.
The Drawer Pouch is very handy for carrying things with you around town, of course, but it also serves as a reliable source of organization and storage when kept inside the home. Come take a look and find the Drawer Pouch that's perfect for you.
Sales Information
Sales begin March 1st, 2019
Where to Buy
*Sales will begin through the Hobonichi Techo Official Store and at the Tobichi Tokyo shop on March 1st at 11 AM Japan time, and noon Japan time at the Tobichi Kyoto shop.*Preorders and early signups are not available at the Tobichi shops.Please see each shop's homepage for more information. (Tokyo Kyoto)*For store hours and stock information at Loft shops, please contact the store directly.