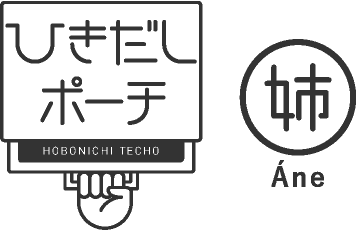 Carry an entire drawer with you everywhere you go. Restocks and a new addition to the Drawer Pouch Áne lineup will go on sale April 2, 2019.
---
Drawer Pouch Áne

Sales Information
Sales begin April 2nd, 2019
New Design
Liberty London Fabrics: Luna Meadow
*Only available for sale through the Hobonichi Store and Tobichi Tokyo / Tobichi Kyoto
*Sales at Tobichi Tokyo/Kyoto begin mid-April. (Note added Apr 1, 2019)
Restocks
Black,Yellow,Bow & Tie: Hedgehog,
Liberty London Fabrics: Peacocks of Grantham Hall,
Locharron: Buchanan,
Koyaguchi Pile Fabric: Hanajutan,Iwate Home Spun: Saikoshi
*Restocks available at Tobichi Tokyo/Kyoto in mid-April. (Note added Apr 1, 2019)
*minä perhonen: mermaid (Gray) was listed as "planned for a Summer 2019 restock." However, the restock was released on May 9th and has since sold out. There are no plans for further restocks. (Updated May 27, 2019)
*There will be no restock for Bishu Woven Textile: Benihijima or Coohem: Tweed White.
Where to Buy
*Sales begin on the Hobonichi Store on April 2nd, 11 AM Japan time. Sales begin at Tobichi Tokyo and Tobichi Kyoto in mid-April. (edited Apr 1, 2019)*Preorders and reservations are not available at Tobichi. You can find store details here: (Tokyo/Kyoto)Loft stores in Japan offer 4 designs (Black, Yellow, Hedgehog, and Peacocks of Grantham Hall). For inquiries about stock and business hours of Loft stores, please contact the stores directly.