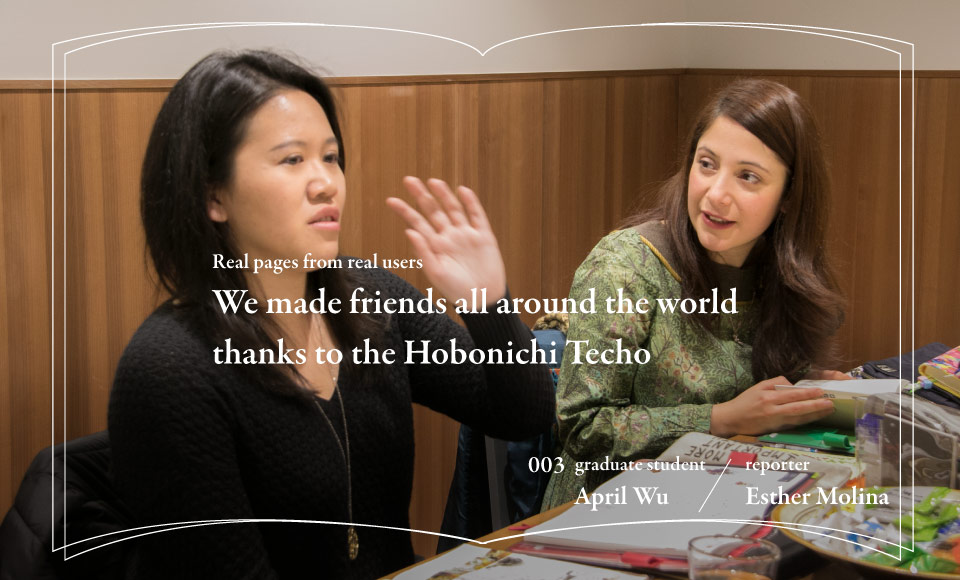 The Hobonichi office in Tokyo, which is already a bright and fun space, was recently made even more lively thanks to a visit from two very enthusiastic fans of the Hobonichi Techo, who spoke with Hobonichi staff member Naoko Hayashi.

April Wu hails from Taipei via Bangkok, and is now a graduate student in Boston. Her Instagram account, Penguins Creative offers up-close looks at pages from her own Hobonichi Techo, and her blog offers resources such as videos and tips on making journaling an everyday practice.

Esther Molina, who is from Barcelona, has made Japan her home for the past 12 years. She is a radio reporter and announcer, as well as a Spanish teacher, and she also participates actively in Hobonichi Techo meetups and online resources for journaling.
Tell us how you two met each other!
I saw April's techo on the Facebook Hobonichi Users group, and her drawings were so beautiful. I contacted her, and we started to chat. We became best friends…and it was all thanks to the Hobonichi Techo!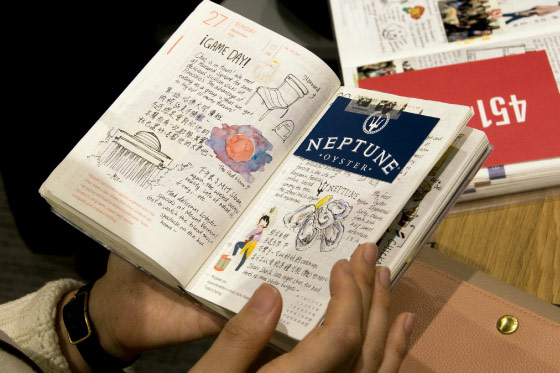 It's so true! After we started chatting on the Internet, I asked if I could go visit her — and I ended up staying at her place.
Yes, I invited April to stay at my house during her visit to Japan, but we'd never met each other before!
My mother said "You don't know her! She might be a serial killer!" And Esther's mother said the same thing!
She did, and I told her, "No, it's okay! April draws so beautifully. Only good people use the Hobonichi Techo, so there's no problem!"
(Laughter)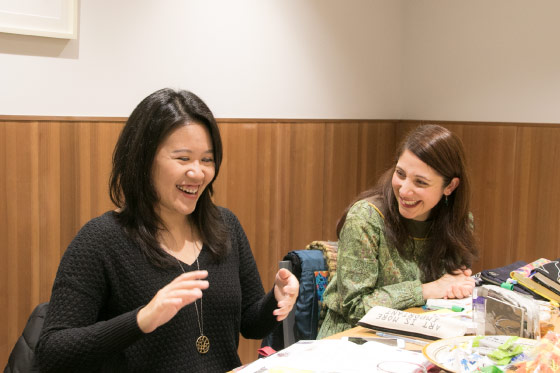 Yes, our connection is actually so special that we feel like we might have been sisters in another life!
Yeah, I got so excited when I first saw her at the station.
Me too. When you came out of the elevator today, I felt like hugging you!
Actually, I feel like there are common aspects among the personalities of people who use the Hobonichi Techo. Everyone tends to be very organized and neat, and to care about art and design.
And everyone is so creative!
And intelligent!
In the Facebook group, everyone usually starts out by saying that they want to use the Hobonichi Techos for planning and scheduling — but then they end up doing drawings! It's like the techos help release the childish nature that's inside all of us. Most users in the U.S. community that I've met are women in their 30s-50s, and they love the fact that there's space for them to write something for themselves every day on each page. In fact, I think that this aspect of the Hobonichi Techos really calls out to each one of us.
I agree. I think that the Hobonichi Techo is very unique.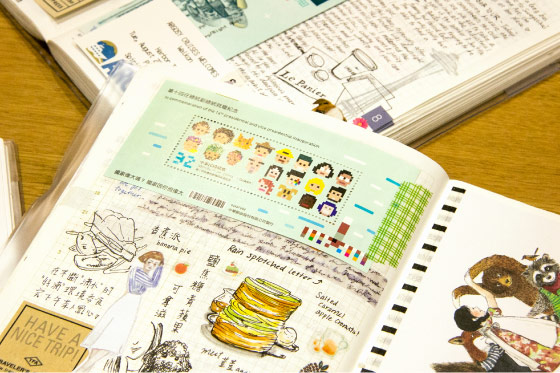 I really like the "life" idea, where there is something special for yourself every day. And I really love the Hobonichi brand. I look at the website a lot to see what you've put up on the web shop page, and I also really like the articles. Even though my Japanese is really bad, I still try to read the kanji and katakana.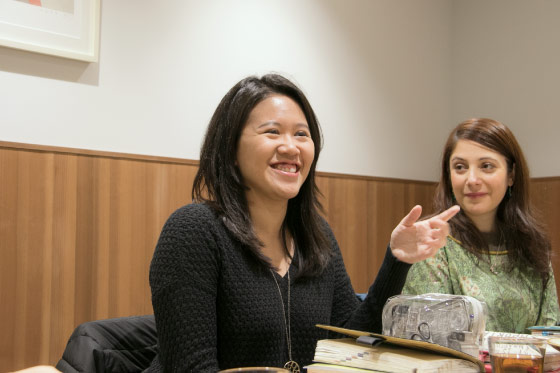 Arigatou gozaimasu

! I see on your Instagram page that you're holding meetups in a number of locations. In which countries have you had Hobonichi Meetups?
In the U.S., Taiwan and Japan. My infatuation with the Hobonichi Techo hadn't started yet when I lived in Thailand. That came later, when I became unemployed and wanted to document what I was doing every day.

Now, whenever I go to new cities in the U.S., I post on the Hobonichi user group to ask if anyone wants to meet up — and we usually end up getting together in cafés. I mainly use the Hobonichi Techo, so I call it the Hobonichi Meetup. Everyone brings all their planners, and their other supplies like stationery and pens and paper. We always need to have a large table. It gets crazy!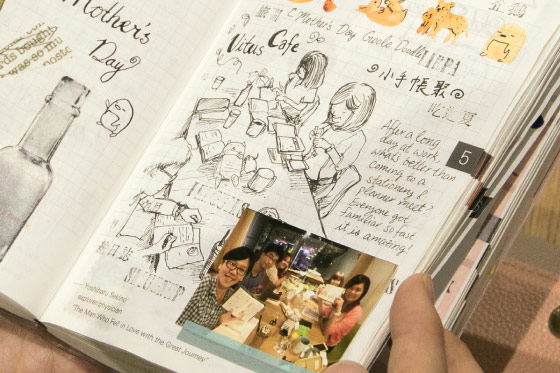 That's really outgoing of you to reach out to new people like that! Were you scared when you started the meetups?
I started them in Taiwan, and I wasn't afraid yet. And because I did it so often, I wasn't afraid to do it in the U.S. either. I thought, "It's all good people. No one mean has shown up yet!" At first I sometimes felt nervous while I was waiting with my sign, but as soon as we opened up our techos, all of the shyness just went away. It's really awesome!
I do meetups for the Hobonichi Techo and Travelers Notebook, and I don't know anyone who has had a bad experience yet. Actually, it's the opposite!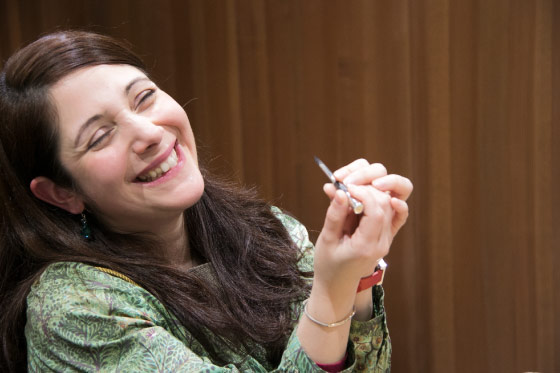 That's fantastic. You must meet people from all around the world both online and through meetups. In how many countries do you have Hobonichi friends?
So many! France, Spain, Germany, England, South Africa, Australia, Switzerland, Brazil, Thailand, Malaysia, Singapore, Hong Kong, China . . . almost any country you can imagine!
That's amazing!
I get messages through my Instagram account, and it's really fun to talk with so many different people. It usually starts with someone asking me something like, "What kind of pen do you use?" or "What kind of fountain pen do you recommend for the Hobonichi Techo?"
That's how our first conversation went too!
I sometimes use watercolors on my Hobonichi Techo, and people really want to know what I do so that the paper won't wrinkle.
Many people use sketchbooks to draw, and they are afraid because the Hobonichi Techo paper looks so delicate. So when they see what other people do in their Hobonichi Techos, they ask, "How do you do that?" . . . and then they end up using one too!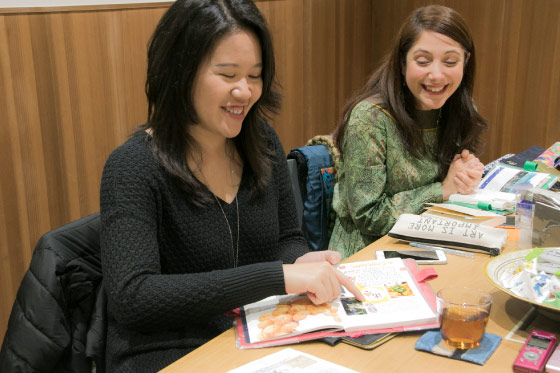 (looking at April's techo): It's so thick! So nice! Mine is super

mecha-kucha

(messy), but your layout and design are really amazing!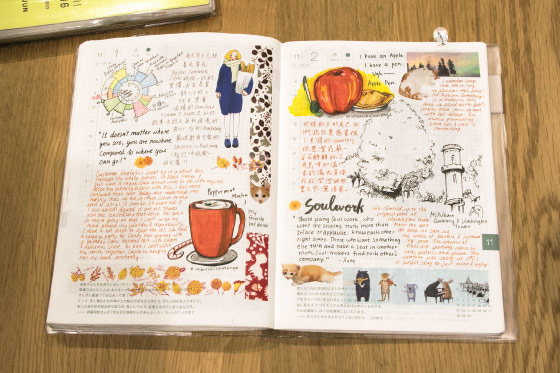 And your style hasn't changed at all from your first Hobonichi Techo!
Yes, I've kind of developed my own unique style. I always include sketching and journaling, and I also like to use quotes that I really enjoy or find funny.
(to Esther): Yours is really good too! May I ask why you use the Japanese version of the techo?
I like that the Japanese version has a time schedule, and that it's more colorful. I also like that it has the Japanese national holidays on the daily pages, as well as the information in the back. I love the information about the 24 different seasons! I just hope that someday I will be able to read all of these pages. I've lived in Japan for such a long time, and I can communicate in Japanese, but my work is always related to Spanish or English, so I can't read. That's my big goal for this year!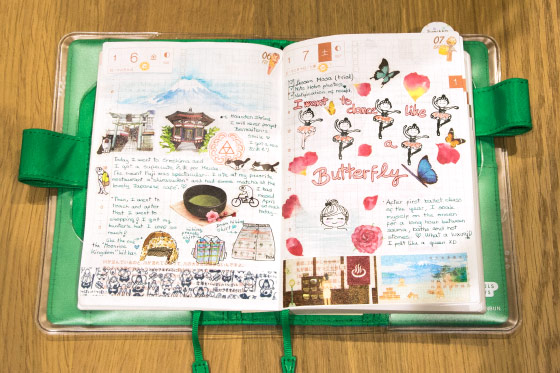 Wow, that's great that a Spanish person knows about the 72 seasons. You are really familiar with Japanese culture, aren't you!
There is someone in the Facebook group who has started translating the quotes into English, and the translations capture the meaning really accurately.
Some of the quotes get really hard to translate. I sometimes feel they are like poetry. And it often requires understanding of differences in our cultural backgrounds.
Absolutely! I remember one quote saying something about how cats won't let you write a novel.



My cats hate for me to write novels.
"We won't allow you to do such a foolish thing
as writing something called a 'novel,'" they say.

―Kou Machida
Author/Musician
"What It Means to Be with a Dog"


But in English, people didn't understand it. I think there is a Japanese cultural element of understanding what is left unstated — in this case, his love for his cats, even when they disturb his desk. But people didn't get it.
Right. Machida-san did not directly state that he thinks his cats are especially cute when they become demanding because they want to play with him.
And if you had a cat, you would already know this.
Some people didn't understand the quote. But in my view, the beauty of the Hobonichi Techo is its whimsical quotes about life that you can relate to, or that are really funny. People expect quotes to always be inspirational or motivational, but actually, I think that quotes about daily life are more interesting.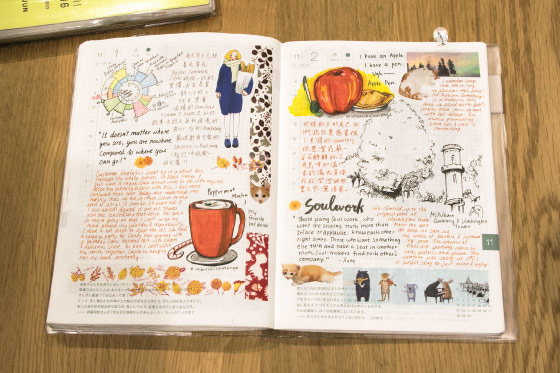 I introduced the Hobonichi Techo in Spanish during a radio program on Japanese culture last year when we did a segment on Japanese schedule books.
That's great! What type of work do you do exactly?
I am a reporter about Japanese culture and daily life. I love my job so much! Actually, I was an IT engineer when I was in Spain, and I switched to a completely different career after I came to Japan.
I used to be an IT engineer too. What a coincidence!
Many of my meetup friends are IT engineers too, or other professionals like financial investors and bankers — but they all love stationery. We get together for meetings with our fountain pens and other tools and just go wild!
To be continued in Part Two