This product has a January start date. For an April start date, please click here.
Kyoko Okazaki

River's EdgeWeeks Hardcover Book (Monday-Start Week)

This firm yet flexible Weeks hardcover book features a pencil sketch from the manga River's Edge by Kyoko Okazaki, with book design by Shin Sobue and Keiichi Koinuma. The cover is pure-white cloth with the drawing of a boy on the back. The clear imprint of the year brings out the bright feel of the white background, and there are two bookmarks, one black and one white. The inside of the cover is lightly printed with the letters "hobo" arranged into a pattern.

As a free bonus, this book includes a decorative Clear Cover with words printed from Kyoko Okazaki's short story collection "We Kinda Forget It All," and a pencil board featuring an illustration from her manga Helter Skelter.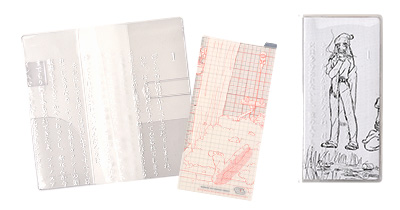 Sold separately is theHobonichi Memo Pad Set featuring Kyoko Okazaki, also designed by Shin Sobue and Keiichi Koinuma and available in the Hobonichi Store.
This product has a January start date. For an April start date, please click here.
Hobonichi Techo
Weeks &
Special-edition pencil board
Special-edition clear cover
Hobonichi Japan Rail Map
Web Shop
Exclusive
BonusMore
Information

3,240 yen (incl. tax, excl. shipping)
Will ship in 1-3 business days

Long-Wallet size
One week per two-page spread
January start date
Includes Web Shop Bonus
Includes special-edition pencil board
Includes special-edition clear cover
Specifications
Size
Width: 95mm x Height: 187mm x Thickness: 10mm (3.7" x 7.4" x 0.4")
(Specifications may vary slightly)
Weight
Approximately 135g
Main material
Rayon
Total pages
240 pages
Bookbinding
Stitch binding
Paper type
Thin, light, bleed-resistant Tomoe River paper (planner-specific type/cream color)
Grid size
3.54mm
Yearly Calendars
2015, 2016, 2017
Yearly Index Columns
Jan. 2016~Dec. 2016 (2 page spread)
Monthly Calendars
Dec. 2015~Mar. 2017 (32 pages)
Weekly Calendars
Nov. 30, 2015~Jan. 1, 2017 (114 pages)
Quotes
One per week
Blank grid paper
71 pages
Informational pages
Age table
Solar terms (Japanese)
International country codes / dialing codes
Emergency preparedness (Japanese)
Human history at a glance (Japanese)
Useful links
Conversion table
Contact book (24 people)
Personal Notes
Information included
Week numbers
Rokuyo (Traditional Japanese calendar)
Solar terms (Japanese)
Japanese holidays
Moon phase (weekly pages include daily phase/monthly calendars only include full and new moon)
Please Read Before You Buy
In order to provide you with the most satisfaction for your product, we've compiled a list of warnings, potential issues, and tips to keep in mind for this particular product. Please be sure to read this information carefully before placing your order.
Imprinted year numbers may peel

The numbers of the year are stamped onto the cover in gold leaf or other colors, so strong rubbing or everyday use may cause the numbers to peel off.

Avoid exposing Clear Cover to cold temperatures

The PVC plastic of the Clear Cover may lose elasticity and become difficult to put on when left in cold temperatures. If this happens, we recommend letting the product sit in a warm area before applying to your cover. Please be careful when handling your Cover on Cover in cold temperatures, as it becomes more susceptible to damages if dropped or handled roughly.

Test fountain pens before regular use

The Hobonichi Techo's Tomoe River paper is designed to prevent bleed-through, but some fountain pens and water-based ink pens are not compatible with this paper. When switching to a new pen, we recommend testing the pen somewhere in the book, such as the back memo pages, to see if the ink bleeds through or takes an especially long time to dry.

Grid size is 3.54mm

The grid size for the Weeks graph paper was originally listed as 3.45mm, but the actual grid size is 3.54mm. We apologize for the confusion, and the listing has been updated.
(Updated: 9/16/2015)

Correction to free bonus Japan Railway Map

Minami Urawa Station on the JR Keihin Tohoku Line was missing from the Tokyo section of the Japan Railway Map (which is included as a Hobonichi Store-exclusive bonus with Weeks books). The correct image is below. We apologize for the confusion.

(Updated: 9/30/2015)

Error in Japanese 2016 Hobonichi Techo copyright page

The final page in the Japanese 2016 Hobonichi Techo, which includes
copyright data and other information, lists an incorrect URL for the
Japanese Hobonichi Techo Web Shop.

Error: https://1101.jp/techo2016
Correct: https://www.1101.com/store/techo/

We apologize for the oversight.

(Updated: 5/2/2016)

Correction and Apology for Typographical Error in Solar Terms section

One of the Japanese characters in the Solar Terms explanation is incorrect, as listed below.

白露 (White Dew)
Incorrect: 昔の人は、草木に降りた霜が (Long ago, people saw the frost on the plants...)
Correct: 昔の人は、草木に降りた露が (Long ago, people saw the dew on the plants...)


We apologize for any confusion this may have caused.
(Added on June 7, 2016)