This charming original Hobonichi
mini pocket tissue holder is
all smiles
Eligible Products:

Original Hobonichi Techo book
Cousin Hobonichi Techo book
We've created this original mini pocket tissue holder to make it a bit more fun to carry it around. There are four randomly-assigned colors to collect. We'll surprise you with one of the four bright, cheerful colors: red, blue, mint, or yellow.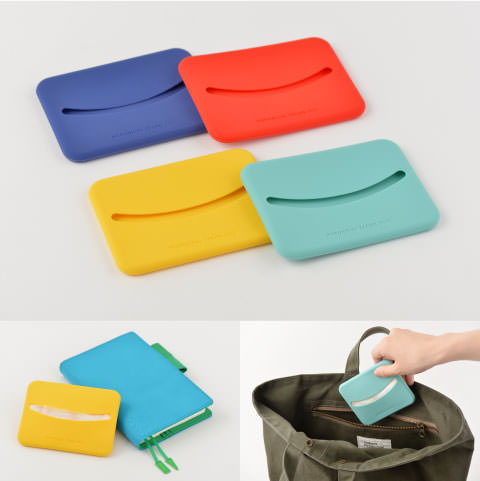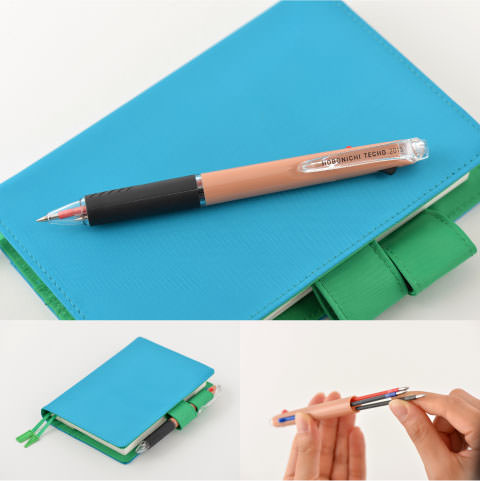 The highly-acclaimed
3 Color Uni Jetstream Ballpoint Pen
by Mitsubishi
Eligible Products:

Original Hobonichi Techo book
Cousin Hobonichi Techo book
The Jetstream pen has been a big hit ever since we first began including it in our free gift set in 2010. The ink in this retractable pen comes in three colors: black, red, and blue. The 0.5mm pen tip writes incredibly smoothly on the Tomoe River paper, and refills are available in all three colors in the Hobonichi Online Store.
Original Hobonichi Techo
Cover-on-Cover
Eligible Products:

Certain Original Hobonichi Techo covers
The Cover-on-Cover is great for not only protecting your cover from smudges and scratches, but framing your favorite photographs and illustrations onto your cover at any time for rotating customization. You can transform the look of your cover just by inserting a single postcard into your Cover-on-Cover. This free gift is included in a certain portion of our Hobonichi-brand Original size cover lineup. You can see whether this gift is included by checking whether it's listed on the cover's product page.