A Simple Guide to
The Hobonichi Techo / Planner
The original Hobonichi Techo was created in 2001 from the Japanese website Hobo Nikkan Itoi Shimbun. Every year, the techo's design has been refined and updated to reflect the demands of users. There are three sizes: the Japanese paperback-sized "Original," the A5-sized "Cousin," and the weekly-diary formatted "Weeks."

Here is some information about the English Hobonichi Planner, its Japanese "Original" counterpart, and the larger Japanese "Cousin."
Click image to enlarge
Hobonichi Planner

Hobonichi Techo
'Original'
Hobonichi Techo
'Cousin'
Language
English
Japanese
Japanese
Size
A6 (4.1"× 5.8")
A6 (4.1"× 5.8")
A5 (5.8"×8.3")
Start Date
January
April
January
April
January
Daily
Page
Weekly
Page
Not included
Not included
Monthly
Page
Daily
Quotes
Other
Pages
Hobonichi Planner:
More Information

Lineup

Features

Hobonichi Techo
'Original':
More Information

Lineup

Features

Hobonichi Techo
'Cousin':
More Information

Lineup

Features
One Page Per Day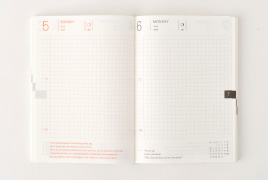 Every day is given an entire page with only graph lines for creative versatility. You can enter your schedule for the day or scribble some ideas on a whim. But the planner is not only for writing. Users paste tickets, magazine clips, photo prints and other items of interest as they use the planner in their own unique way.
Lay-Flat Binding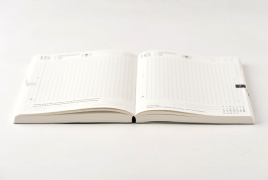 First-time users have been surprised at how the planner opens and lays flat. A novel, for example, doesn't need to open a full 180 degrees, but to someone who carries their Hobonichi Techo everywhere and pulls it out to jot something off the top of their head, it's very important for the book to open and lay flat without being held down.
A Book for Reading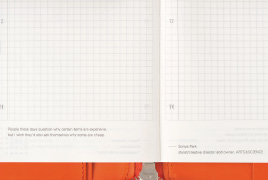 From the heartfelt to the humorous, each page includes a quote from the techo's parent site, Hobo Nikkan Itoi Shimbun.
(The Hobonichi Planner includes one quote per two-page spread.)
Choose Your Favorite Cover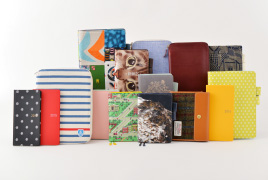 The Hobonichi Techo experience includes selecting a cover.
The cover does more than protect your planner book from daily wear and tear. Its many pockets, and the pen holder that holds the cover shut, make the cover a resourceful and fun tool to make life more convenient. One excitement for users is choosing their favorite cover from the extensive lineup every year.