Created through the Perspectives of Design Psychology
The all-new ruled line design of this notebook was developed by Prof. Haruo Hibino and his team of researchers at BB STONE Design Psychology Unit, Inc., a venture company of Chiba University's Faculty of Engineering. It was created through the perspectives of design psychology by applying the phenomenon of optical illusion.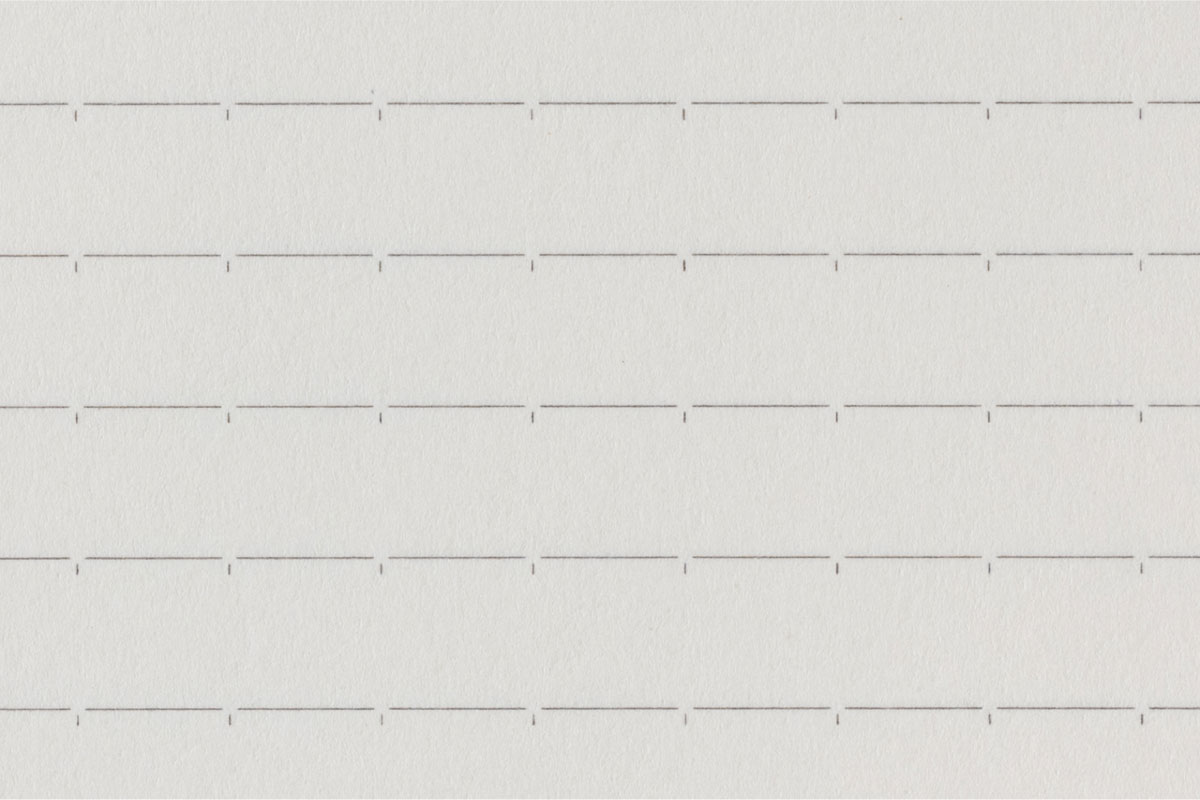 Features: 1) Lines interrupted at equally spaced intervals
2) Short line inserted below each space
There's a phenomenon called "subjective contour," in which contours are perceived by an observer even though they do not physically exist. In the following figure, you can see a triangle with a black outline as well as another bright white triangle flipped upside down. In reality, the bright white triangle has no physical outline.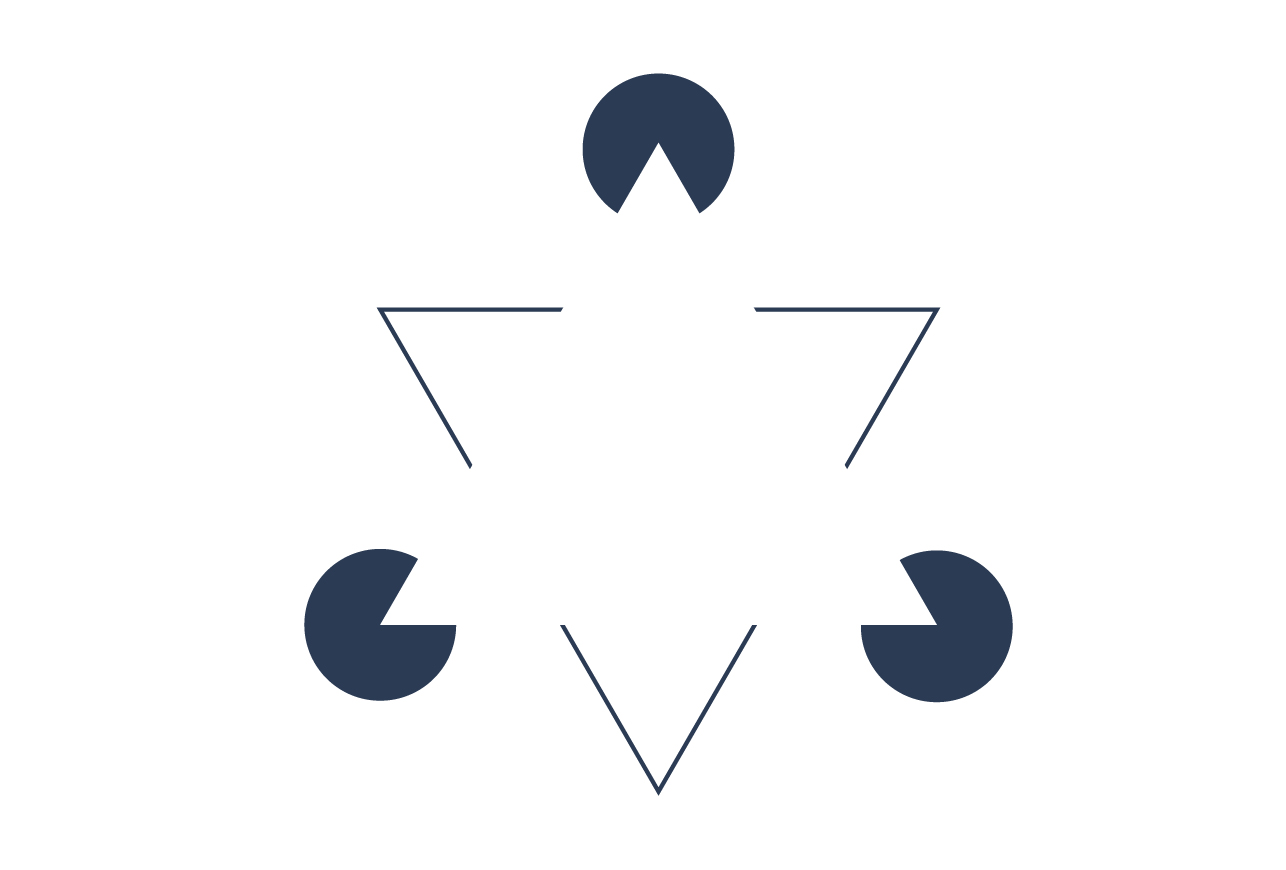 Example of subjective contour (Kanizsa triangle)
This ruled line design uses the effect to give writers the impression that there are vertical lines, even though there aren't. After creating and reviewing several design patterns, we adopted the simplest design for this notebook.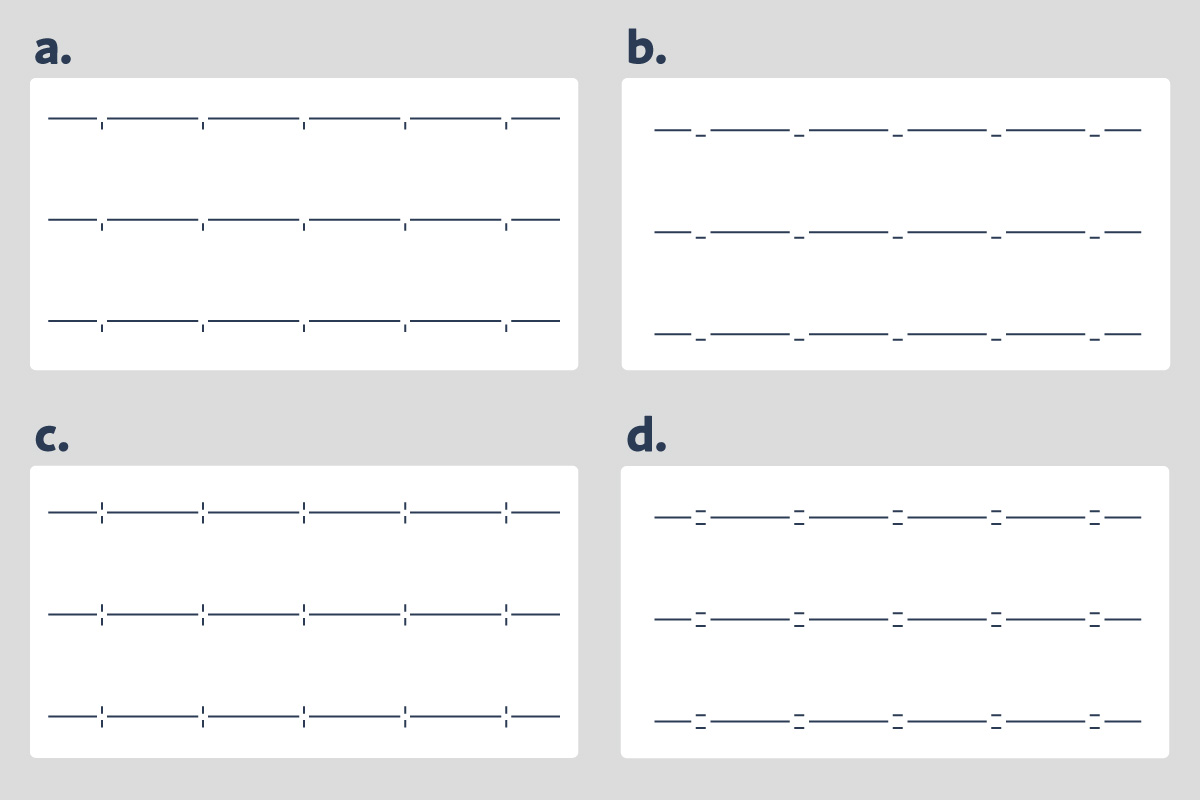 a) Tiny vertical line slightly below each space (Final design)
b) Tiny horizontal line slightly below each space
c) Two tiny vertical lines above and below each space
d) Two tiny horizontal lines above and below each space
The perceptual effect induced by tiny vertical lines makes it easier to draw graphs and diagrams, while the absence of the physical lines reduces visual stress. This ruled line design successfully obtained a patent in 2020. (Patent No. 6749109)
Easily align headers, and draw neat graphs and charts
The tiny vertical lines allow you to line up the start of each header or paragraph without much thought, so that the notes you take will be easier to read back through later. They're also an unimposing guide that helps you draw clean vertical lines, charts, and graphs.
The ruled line design that increases mental concentration
The Design Psychology Unit (DPU) of Chiba University conducted a diverse array of verification research on 116 subjects, using strict methods based on experimental psychology.

Subjects were asked to conduct simple calculation tasks using both our new ruled line notebook and existing ordinary ruled line notebooks. The results indicated that the speed and accuracy of subjects' task performance were the best for our new ruled line notebook. This fact suggests that our new ruled line design has an increase in concentration. The final results were presented at the 31st International Congress of Psychology (ICP2016). *The increase in the correct answer rate and speed of simple calculations suggests the possibility of increased mental concentration. Other evaluation experiments also demonstrated that our new ruled line design can be expected to increase mental concentration.
*Results may vary. The effects are not guaranteed for everyone.