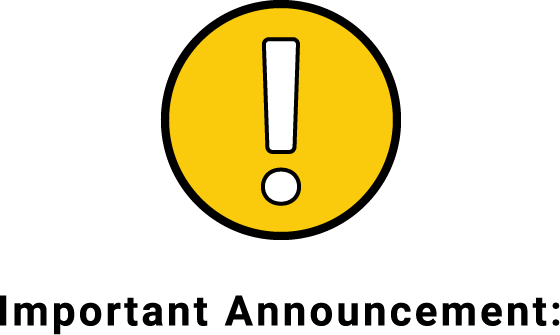 We'll have a new sales system
for our September launch!
Greetings from the Hobonichi Techo team.

The time has finally come for us to begin announcing information about the Hobonichi Techo 2019 launch.

We're sure you're ready to see our new lineup for the year, but before that, we have an important announcement about a fundamental change in our sales setup for the launch.

In the past, we've released our entire lineup in the Hobonichi Techo Official Store on September 1st. However, due to issues that arose from the surge in traffic, customers have not been able to enjoy a smooth shopping experience.

That's why we're making some upgrades and improvements to help the Hobonichi Techo 2019 launch be a success and allow customers an enjoyable shopping experience. In addition to the system improvements, we'll also be spreading out release dates for products across a span of 3 days.

So instead of having everything launch on September 1st, our release dates for the Hobonichi Techo 2019 will be September 1st, 2nd, and 3rd. Launch dates will vary by product.


-Sales will begin on each release date starting at 11 AM Japan time.
-We'll be announcing our full lineup and each product's release date on Friday, August 17th Japan time.
-All accessories will be released on September 1st.
-Release dates will only be spread across the 3 days on the online Hobonichi Techo Official Store.

Products available at Loft stores in Japan, the Tobichi shops, and other shops will all begin sales on September 1st. (This excludes products that aren't available until October and onwards.)

We've put together a basic Q&A to help answer some questions about the new sales system, so please take a look.



This is my first time using the Hobonichi Techo Official Store. How do I make a purchase?

Please see this page for a walkthrough:

The items I want are released on different days. What should I do?

The easiest way to buy products from different release dates is to wait until all the items are available on September 3rd and make your purchase then.
ExampleIf you want to buy Product A which is released on September 1st and Product B which is released on September 3rd, make your purchase after September 3rd, 11 AM Japan time.
Once in a while, an especially popular product may sell out on the day of release. If you would like to ensure your chances for buying an item, you can complete your purchase for available items on each day of release, then put the order on Shipping Hold. When placing additional orders, you will be able to continually merge to that original order during checkout. (Please note that orders placed separately and not merged together will each have their own shipping and handling fees.)
Please see this page for more information on Shipping Holds and Order Merging:

Do products sell out right away?

We generally have enough stock to cover demand. However, some particular products may far surpass expectations and sell out sooner than we had anticipated. We ask for your understanding if this happens.
*If a product sells out immediately, we aim to provide a restock whenever possible. You can see the latest restock status for a product on its product page.
*Other retailers such as Tobichi shops, Loft stores, etc. may have stock available for products sold out online. For stock status of these and other retailers, please contact the store directly.
For other inquiries about shopping in the Official Hobonichi Techo Store, please see our Hobonichi Store Help page here: http://help.1101.com/store/help/en

We hope you look forward to the next Hobonichi Techo 2019 announcements!