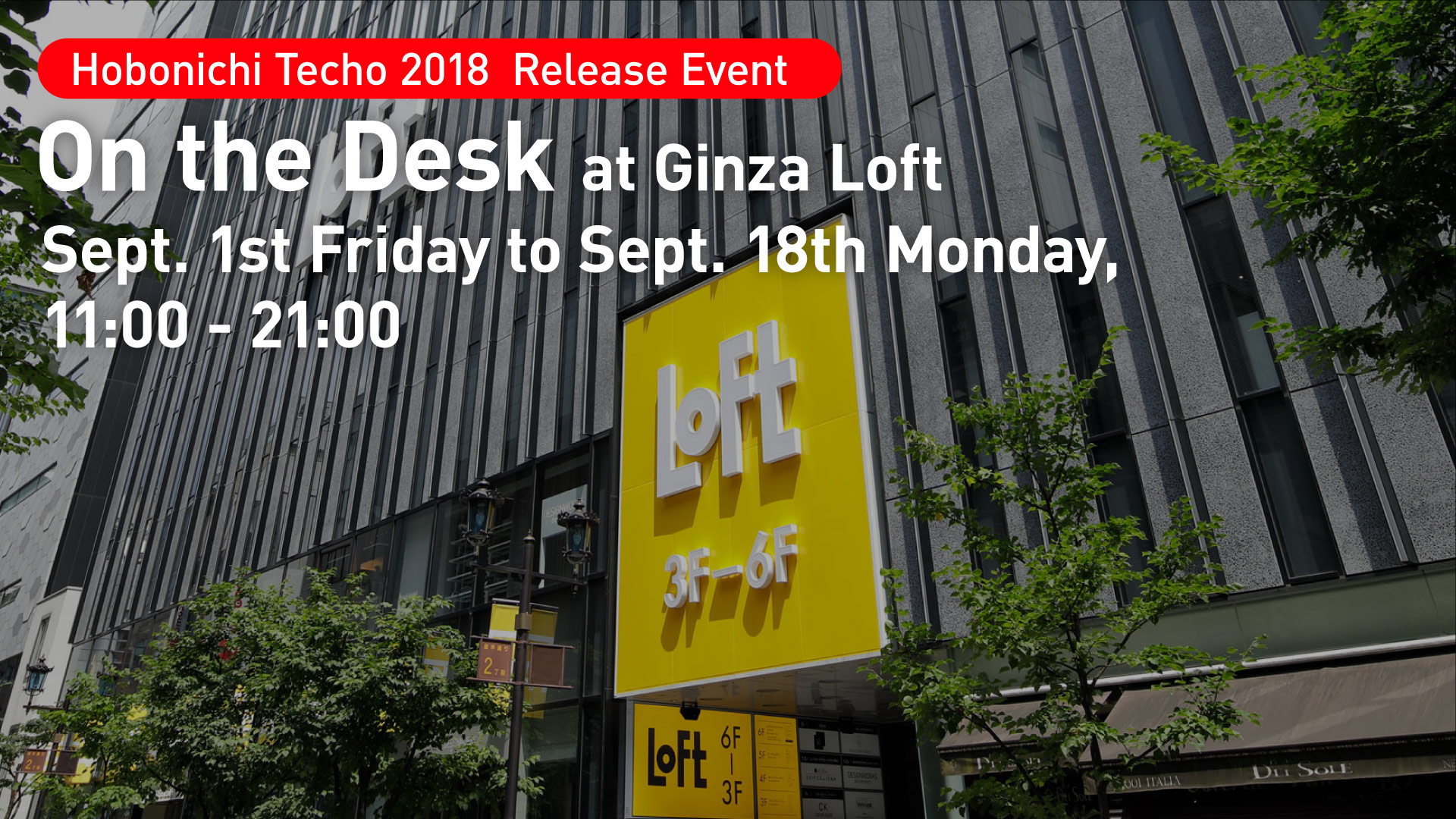 To celebrate the release of the Hobonichi Techo 2018, we are hosting an event at a brand new event site on the third floor of Ginza Loft fresh from its opening in June. The 18-day run is filled with a host of merriments such as talk events, Techo meetings, photo spots, exhibitions and of course, you'll choose the Hobonichi Techo book and cover you'll spend 2018 with.
---

1

On the Desk


― World atop a desk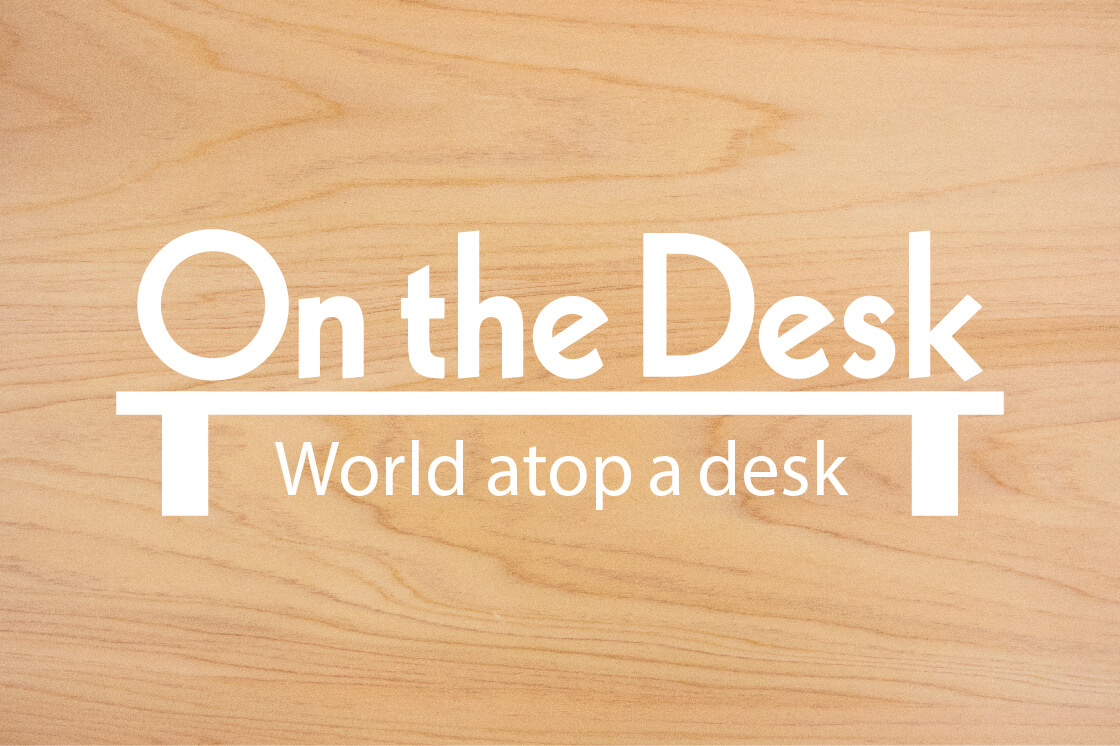 This exhibition celebrates the quiet joy of privately collecting trinkets and knick knacks that seem insignificant to anyone else but are precious to you. Such nourishing acts of gathering is akin to the time and mental space we give to writing in the techo. We invited ten friends of Hobo NIkkan Itoi Shinbun to share their beloved objects atop their desk.
Exhibitors:
Natsuko Ihara (Handwriting collector)
Shin Sobue (Book designer)
Mikiji Nagai (Graphic designer)
Naoko Nakui (Book designer)
Satoru Matsushita (Webshop owner)
pincomiyazoe (Store clerk at zakka shop)
Moegara (Props designer for television)
Yuka Morii (Designer, zakka collector)
Satoshi Yamashita (Hobonichi staff)
Hiroshi Yoshimoto (Music writer)
Date: Sept. 1st Friday to Sept. 18th Monday
Closed during talk event on Sept. 2nd, and meeting caravan event on Sept. 10th.
Location: Special site on the third floor of Ginza Loft(No-charge)
2

Talk event of Moegara × Shigesato Itoi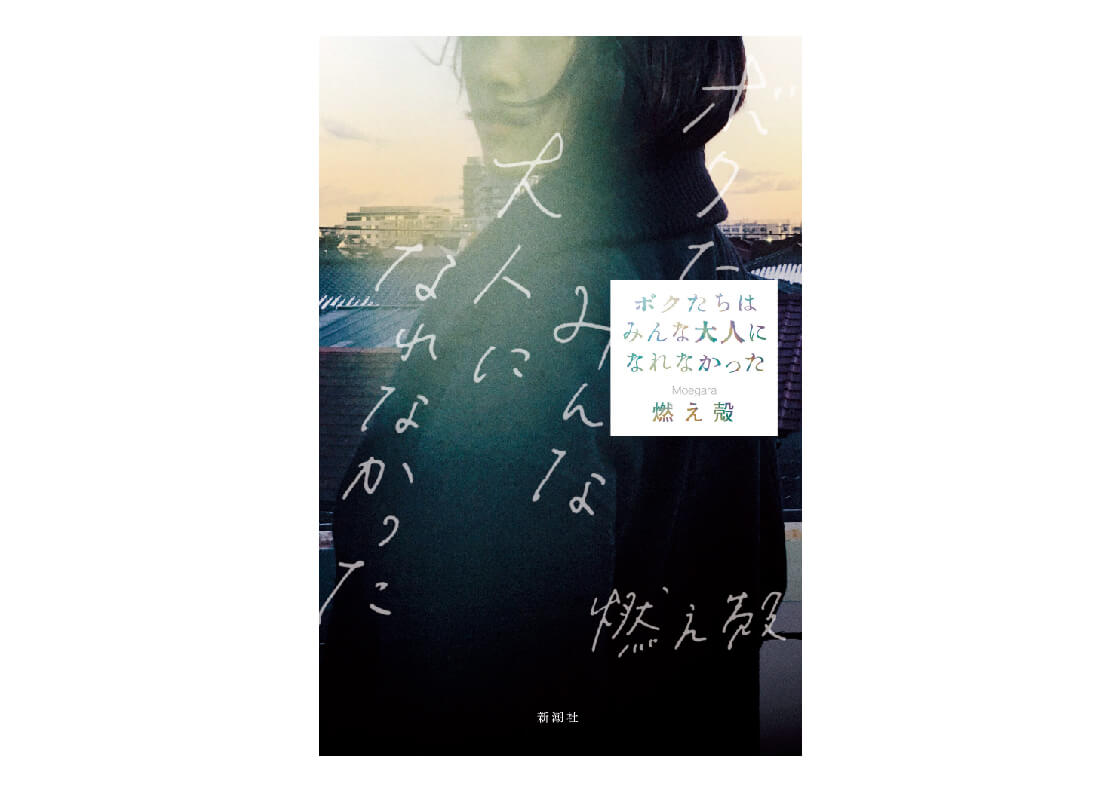 Moegara is a best-selling author with over 70,000 books sold, and a twitterer with over 100,000 followers. The cross talk between Moegara and Shigesato Itoi, both prolific authors with daily posts, promises to deliver hints about the process of writing for the public, every single day. The talk is in Japanese.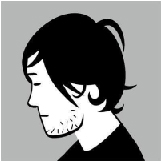 Profile of Moegara
Born in 1973. Props designer, planner and HR staff for a television company. He originally started to tweet as daily reports to fill his absence in the office due to becoming a manager to spearhead the founding of a new division but diverged little by little.
twitter:@Pirate_Radio_
Date: Sept. 2nd Saturday, 14:00 - 15:30(Open: 13:30)
Location: Special site on the third floor of Ginza Loft(No-charge, first come first served)
How to participate
Tickets will be handed out at the site.
Please read the details on how to participate
on the Japanese website.
Notice: Photos of the event will be used in Hobonichi contents as well as by other media companies with approval from Hobonichi.
3

Starting this year in Ginza!
Meeting Caravan 2018 kicks off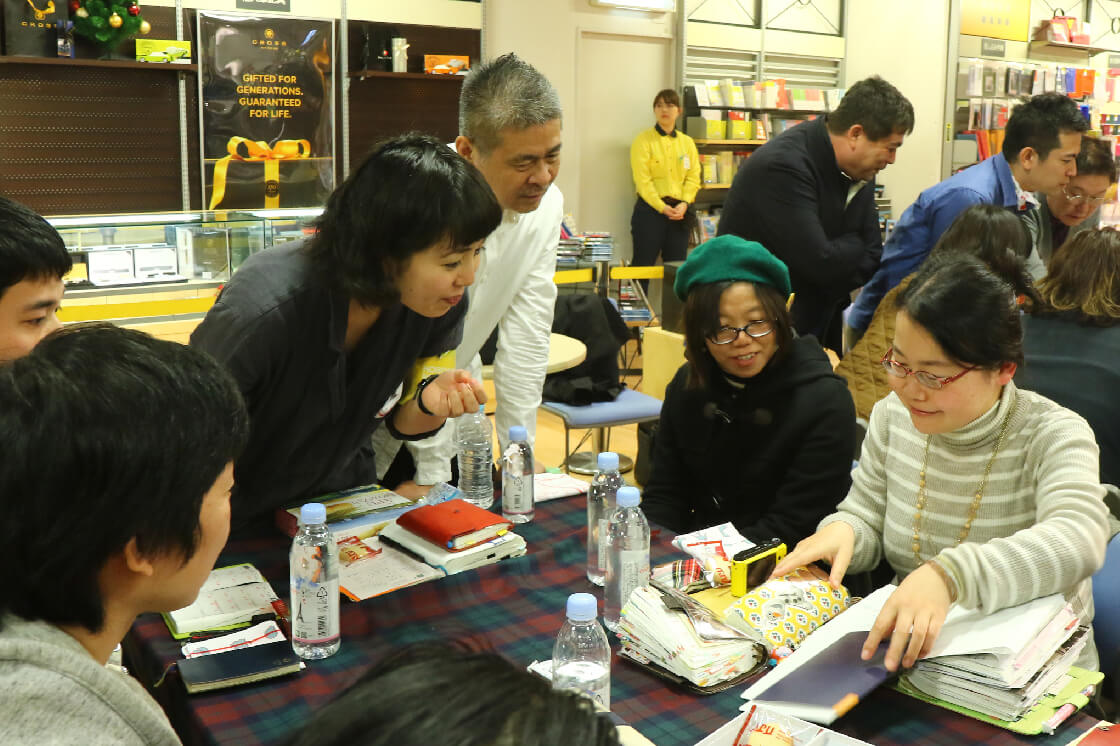 Hobonichi Meeting Caravan for the year 2018 begins at Ginza Loft. If you speak Japanese, this meeting is for you. We invite everyone, including people who don't quite "get" how to use the Techo yet, to come talk to the Hobonichi Techo team. Our founder, Shigesato Itoi might jump in, too!
Date: Sept. 10th Sunday 14:00 - 15:00 / 16:00 - 17:00
Location: Special site on the third floor of Ginza Loft(No-charge)
How to participate
Please read the details and apply online in order to participate from the Japanese website.
Application is open until August 28th, 11:00 AM.
4

Steiff x Hobonichi
Come get your bear goods!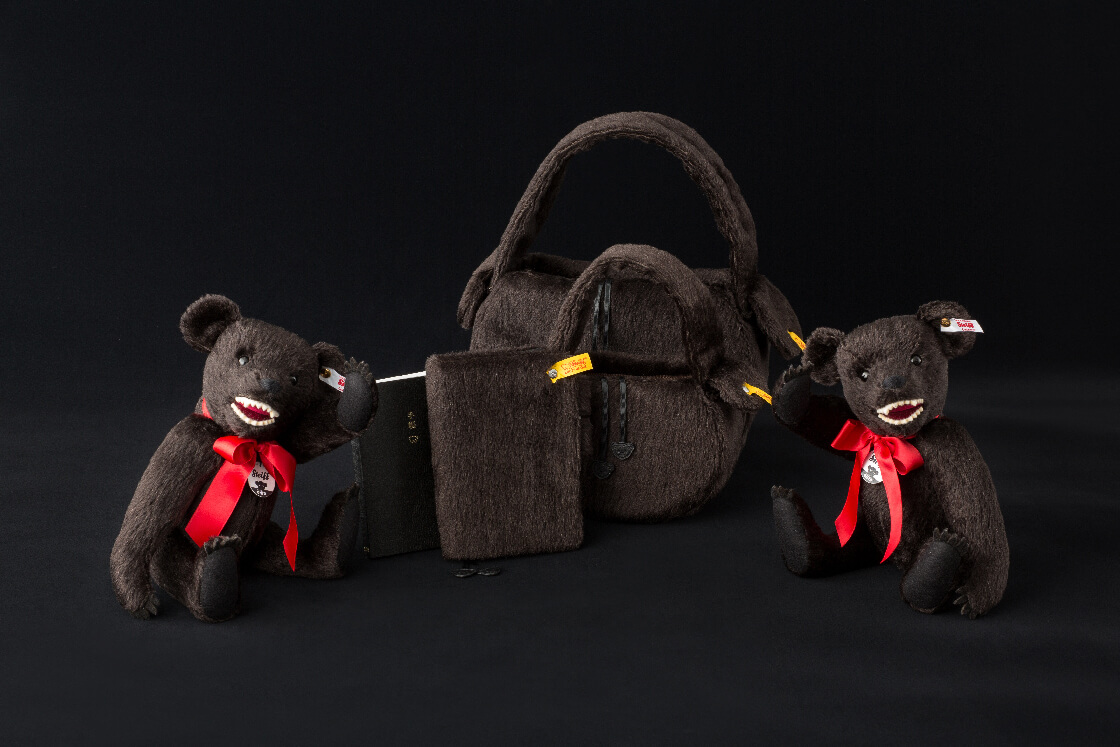 Hobonochi 2018 features a teddy bear themed cover made in collaboration with German plush toy maker Steiff.
An exclusive Steiff x Hobonichi shop will be filled with the whole range of bear lovers' products including Hobonichi Techo Planner book with bear embossing, bag with "bear ears," 100 teddy bears, and more. We hope you'll come meet the bears on the sixth floor of Ginza Loft during the shop's ten day run.
Date: Sept. 1st Friday to Sept. 10th Sunday
Location: Special site on the sixth floor of Ginza Loft
5

Go "inside" Hobonichi Techo and smile!
Special photo booth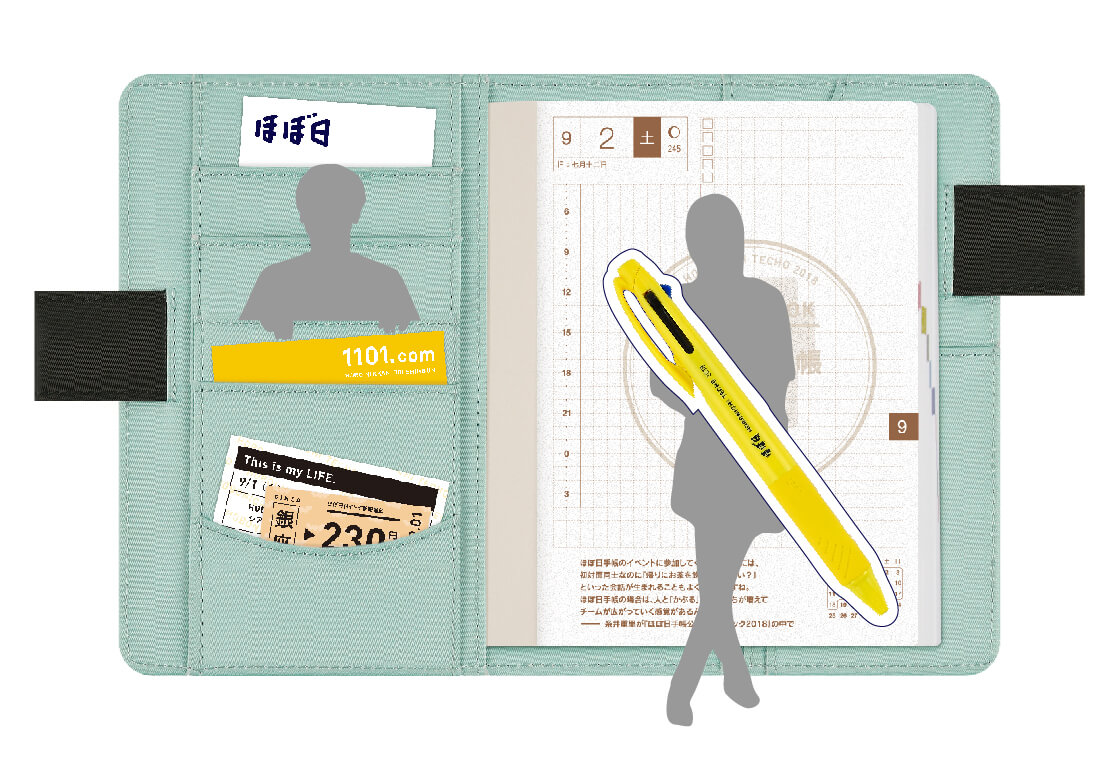 Stop by at the photo booth that lets you take a picture as if you are "inside" a big Hobonichi Techo.
Date: Sept. 1st Friday to Sept. 18th Monday
Location: Special site on the third floor of Ginza Loft
At all Loft stores in Japan

Hobonichi Techo 2018 lineup is released.
There's a bonus of Loft store exclusive gifts!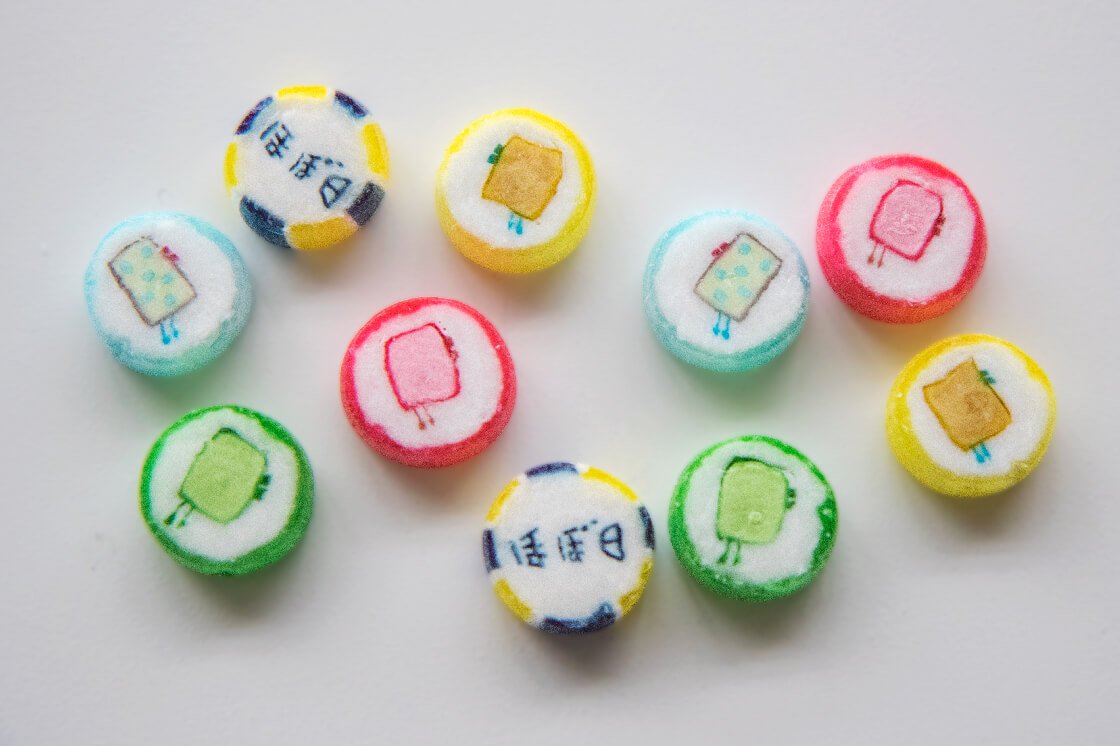 Starting September 1st, Hobonichi Techo's new cover and original stationery will be released in Loft stores all across Japan. There's also a special present for customers who make a purchase of 3,000 yen or more (incl. tax) of Hobonichi Techo or related goods! This year, the exclusive gift is candies adorned with Colors series design from the Hobonichi Techo cover lineup. These cute gifts are limited in number so come get them quickly!
Also showcased at Ginza loft are the limited covers only available at the Hobonichi store and covers sold through lottery sale, as well as items such as samples of bags matching the cover designs.
Products eligible for Loft exclusive gifts:
・Hobonichi Techo Planner, Original, Cousin, Weeks sold in Loft
・Hobonichi original stationery
・Hobonichi Techo Official Guidebook 2018
・Hobonichi Whiteboard Calendar
・Hobonichi Books
Starting: Sept. 1st Friday
Location: All Loft shops selling Hobonichi Techo