When you purchase the Hobonichi Techo in the online Hobonichi Store or Tobichi shop!
When you purchase your Hobonichi Techo through the online Hobonichi Store or in person in Tobichi shops in Aoyama (Tokyo) or Kawaramachi (Kyoto), you will receive an item from the Hobonichi Store Exclusives.
*These items are not available when purchasing Hobonichi products in other shops including Loft stores.
*Included items vary by eligible product.

Meal Decider Dice
Hobonichi Techo 2018
Original book, Cousin book, Avec book, Planner book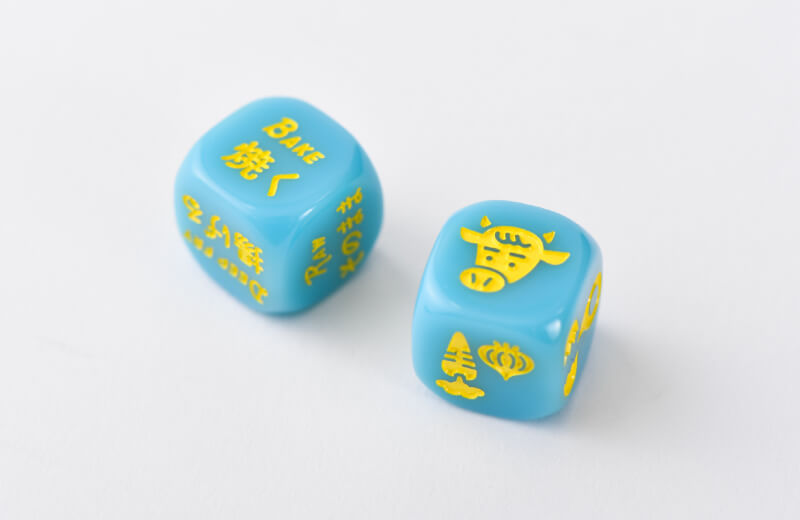 Leave it up to these light-blue dice to decide today's menu. Roll them, as one die has on its sides, ingredients such as beef, pork, and vegetable, while the other has cooking methods such as stew, fry, and steam.
Size

W: 15mm × H: 15mm × T: 15 mm

Weight

3.3g each

Main material

Acrylic resin
3-Color Ballpoint Pen
Jetstream
Hobonichi Techo 2018
Original book, Cousin book, Avec book, Planner book, Weeks book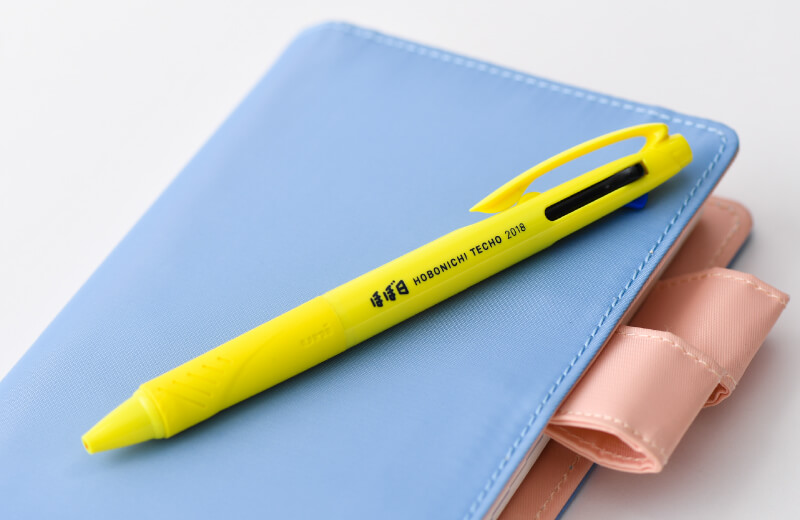 This uni Jetstream pen features a low viscosity ink that writes smoothly and works perfectly with the Hobonichi Techo's Tomoe River paper. The 3-Color Ballpoint Pen includes black, red, and blue ink with a 0.5 mm pen tip. The body is light yellow, and features the logo "Hobonichi Techo 2018."

(This pen's refills are available for purchase in the Hobonichi Store.)
Size

diameter 12.2 mm × length 144 mm

Weight

11g

Main material

Polycarbonate
About the ink in the bonus pen

The 3-Color Jetstream ballpoint pen contains ink that writes smoothly, but compared to other oil-based inks, it is not as strong against humidity. Depending on the conditions in which you store your book, the ink may bleed through the paper over an extended period of time. Please avoid getting your book wet or storing it in humid areas. Ink may also bleed through the paper if applied unusually thickly.

Ballpoint pen ink refills

Ink refills (model number SXR-80-05) for the JETSTREAM 3-color ballpoint pen are available for purchase in the Hobonichi Store

Cover on Cover
Colors series Original (A6), Soda Dots, World Folk Patterns: The Land of Sedona, Good-Bye Penguin: Fly in Sky, Mother 2: This is Magicant.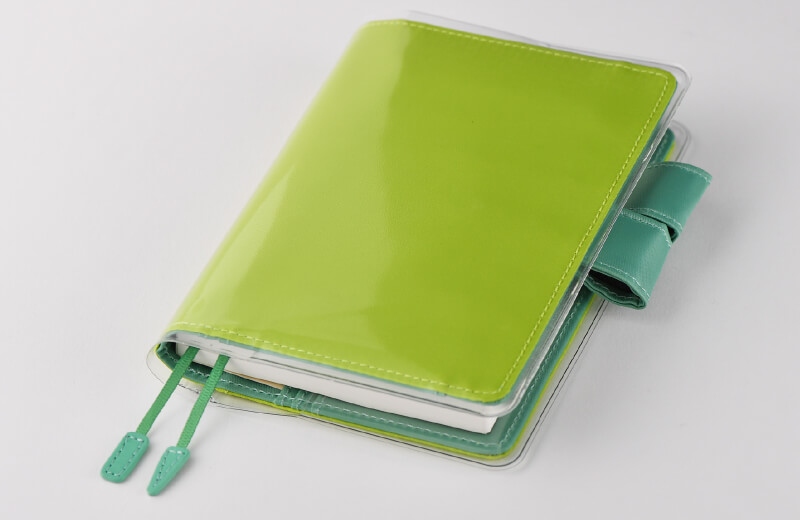 This optional protective case protects your Hobonichi Techo cover from smudges and scratches while still allowing access to the inner and outer pockets. You can also frame your favorite photographs and illustrations onto your cover at any time for rotating customization. (This Cover on Cover is available for purchase in the Hobonichi Store.)
Size

257 mm × 177 mm

Weight

23g

Main material

Soft PVC

Other

Contains opening to access cover's back pocket
Covers compatible with the Cover on Cover

The Cover on Cover has been specially measured for use on the Colors and Faux Fabric lines of thin covers. Other covers may not fit properly into the Cover on Cover. The PVC vinyl of the Cover on Cover contains plasticizer additives which may cause a reaction in the leather dye and affect the color and quality of the leather cover.

If you are purchasing the Hobonichi Techo 2017 cover, you will receive a Cover on Cover from the 2017 Hobonichi Store Exclusives.
List of 2018 Hobonichi Store Exclusives
Included items vary depending on your purchased item.

See Exclusives from 2017
3-Color Ballpoint Pen
Meal Decider Dice
Cover on Cover
3-Color Ballpoint Pen
Meal Decider Dice

Cover on Cover

3-Color Ballpoint Pen
Book Only
| Product name | Book Exclusives |
| --- | --- |
| A6 Original Book (April Start) | |
| A6 Original Book (January Start) | |
| A6 Original Avec Set (January Start) | |
| A5 Cousin Book (April Start) | |
| A5 Cousin Book (January Start) | |
| A5 Cousin Avec Set (January Start) | |
| A6 Planner Book (January Start) | |
| A6 Planner Book Steiff Edition (January Start) | |
Original
Product name
Book + Cover Set
exclusives
Book Exclusives
Shinsuke Yoshitake
A Perfect Day for Picnic Blankets
Kind Cat
Po
Colors
Black x Mint Blue
Navy
Raspberry
Melon
Hydrangea
Canary
Colors
Royal Blue
Soda Dots
Girl's Checkered
World Folk Patterns
The Land of Sedona
Dokonoko
Makoto Kagoshima
Bird, Flower, Willow
Good-Bye Penguin
Fly in the Sky
Michio Hoshino
Harp Seal Pup
Sebastian Masuda
Thank You All
Mitsuhiko Sasao
A Book and Flowers
Mother 2
This is Magicant.
Mother 2 / Mother 3
Mr. Saturn (Ninja, Bird-Fishing, Ladder)
Mother 2
1994
Mother 2
MEMORIES
Steiff
Antipast
Flower Rug (Gray)
Tembea
Tote Book (Tomato)
A VERY MERRY EVERY DAY to you(with Stickers)
Japanese Fabric
Bishu Woven Textile - Benihijima
Koyaguchi Pile Fabric - Hanajutan
Iwate Home Spun - Saikoshi
Liberty Fabrics
Strawberry Feast
Liberty Fabrics
Nancy Ann
Felt Book (Light Gray)
World Folk Patterns
Ukrainian Flowers
World Folk Patterns
Eastern European Needlework
minä perhonen
imagine
tori-to-hana
mermaid (green)
piece, (beige mix)
piece,(blue mix)
minä perhonen
bird
minä perhonen
tambourine (gray)
Porter
Custom (Green)
Snow Peak
Stuffed Shell
Basic TS - Black
TS2018
Butler
Sky Blue
Sunflower
Rose Macaron
Travel (Chocolate)
Travel
The Beatles
In My Life
Help!
Love Me Do
Blackbird
Cousin
Product name
Book + Cover Set
exclusives
Book Exclusives
Shinsuke Yoshitake
A Perfect Day for Picnic Blankets
Colors
Black x Mint Blue
Carnation
Water Blue
Hazelnut
Colors
Caribbean Blue
Blue Gingham
Vitamin Dot
Makoto Kagoshima
Cat Trio
Mitsuhiko Sasao
My Favorite Table
Sebastian Masuda
Thank You All
Tembea
Tote Book (Mustard)
Antipast
Flower Rug (Black)
Liberty Fabrics
Fluttering
Liberty Fabrics
Lucy Locket
Felt Book (Dark Gray)
minä perhonen
tori-to-hana
mermaid (gray)
piece, (colorful mix)
minä perhonen
bird
Porter
Custom (Blue)
Basic TS - Black
TS2018
Butler
Sky Blue
Sunflower
Travel (Smooth Black)
Weeks
Product name
Book Exclusives
Kind Cat
Po
White Line
Black
Ivory
Colors
Sunset Red
Coral Pink
Sand Gray
Forest Green
Ultramarine
Silver Glitter
Bow & Tie
Waffle Stripes
Coffee Beans
Hedgehog
Shirt Fabric
Dot Stripes
Navy Plaid
Mother 2
Magicant Map
Good-Bye Penguin
Naptime
Michio Hoshino
Grizzly Mother and Cubs
A Very Merry Every Day to You (Bear)
Leather
Espresso
Wine Red
MEGA
Sunset Red
Coral Pink
Sand Gray
Forest Green
Ultramarine
Liberty Fabrics
Irma
Tembea
Tote Book (Blue Mint)
B-Jirushi Yoshida
Passport Cover (Black)
Passport Cover (Navy)
Passport Cover (Orange)
Container (Black)
Container (Navy)
Container (Plaid)
Henry Cuir
Passe-Avant (Scuro)
Passe-Avant (Bordeaux)
Passe-Avant (Navy)
Planner
Product name
Book + Cover Set
exclusives
Book Exclusives
ARTS&SCIENCE
Navy
Argilla
Aragosta