Salvage and cleaning work was continuing at Yamamoto-cho with the Schop-Dan volunteers, including the Hobonichi team. In one house we carried pretty much everything out from the mud-filled dining room.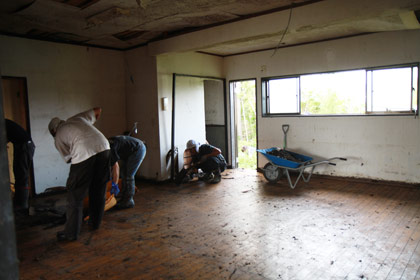 Shigesato Itoi, Hobonichi editor in chief, was assisting that day as well. "No instruction is given. Everyone seems just to be coaching each other. It must require lots of experience and knowledge."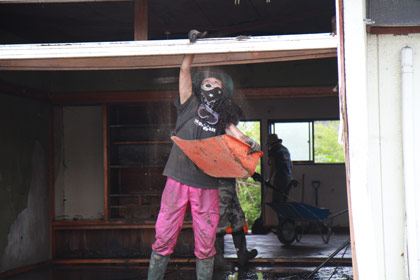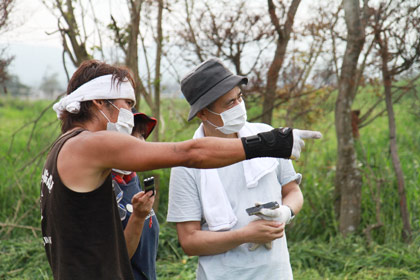 "I agree. We are all building expertise as we go," Schop-Dan team leader Ryo Taira replied. "We were in bad shape when we started. One guy hurt his back. I got inflammation on my joints from gripping the high-pressure hose gun for six hours, and didn't recover in time for the next weekend. But now we' re so muscular! I never thought we'd become experts in this kind of work, though."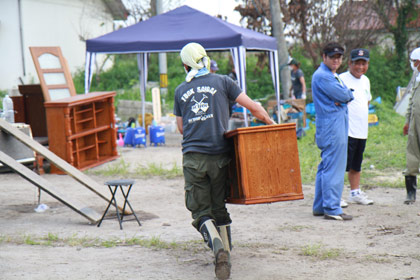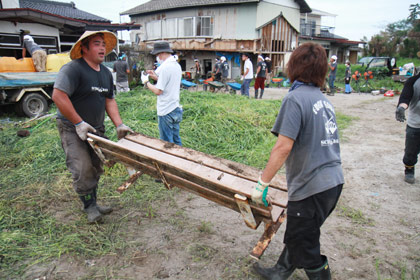 "Is there a goal or a target of some sort for this Schop-Dan?"
Taira: "No target. So far, we have 'schopped' (shoveled) around a hundred houses. Let's say an average of five people per family home. That's five hundred people. We know no matter what we do the world isn't going to change. But we were able to affect the lives of those five hundred people. That means something to us.
I know that those people's lives haven't gone back to where they were. But that's fine, because it's impossible for the family to do what we're doing. It's too painful for them."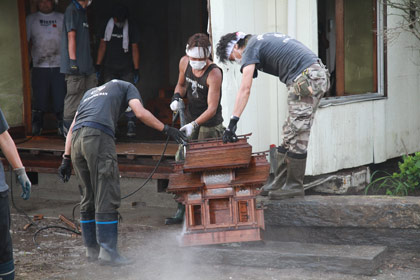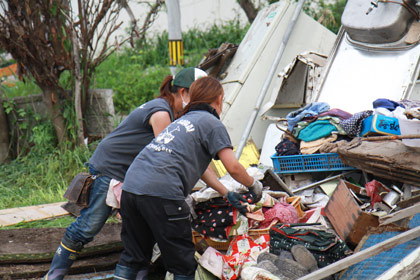 That's why we're doing it, says Taira-san.
The team does, though, he explains, discover a missing person or an animal from time to time.
"Usually the bodies are totally dried up. We found a dog yesterday, partially eaten by worms. We found it and, well, we thought shovels wouldn't be appropriate, so we dug it out with our hands. When we found it, we stopped for a moment, not knowing what to do."
"Of course you'd stop," Itoi replied. "You'd never know what you would do until you actually experienced it."
Taira: "That's right. You could never know. We all cried."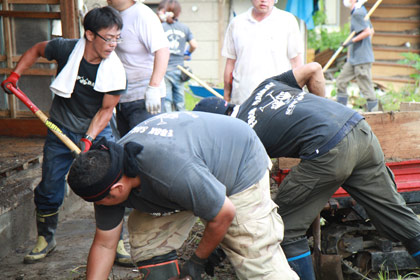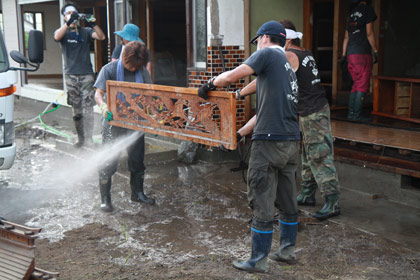 After washing the rooms clean with a high-pressure hose, we went on to tidy up the backyard. Finally, we brushed off the dirt from the roof.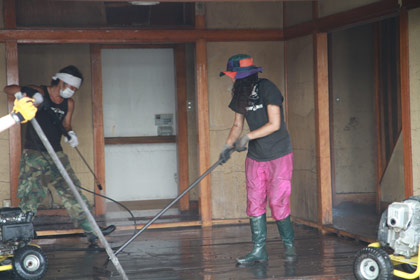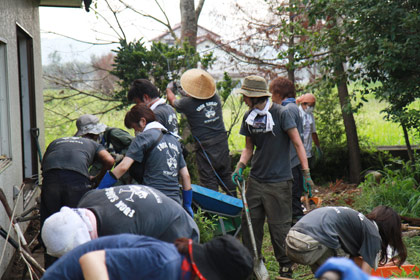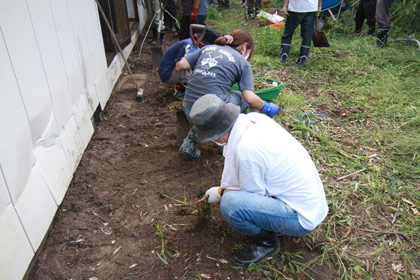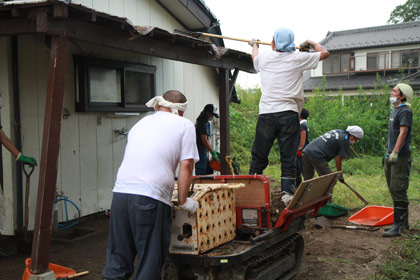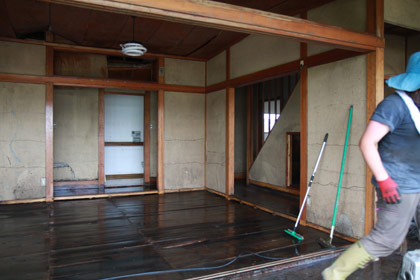 We work until we think "we're done". The sun is about to set. It's the end of day for Schop-Dan.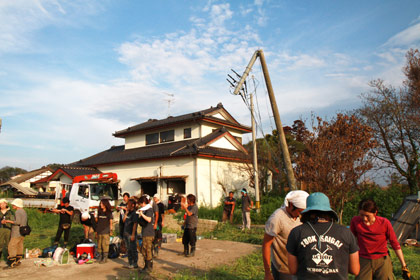 I found Sato from Hobonichi, whom I hadn't been able to locate during the day. She had been in the front yard working hard all day. We were all drenched in sweat and smothered with mud.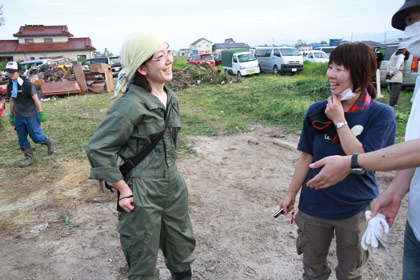 At the end, we all gathered in a circle. We were expecting a few words from the leader, but actually, we just got a simple explanation on tetanus shots and next week's schedule.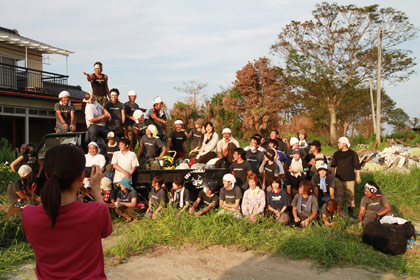 Taira seems to always disappear like the wind before the house owner expresses their appreciation to the team. Schop-Dan makes an appointment with the owner, but the group usually "just comes, works, and leaves."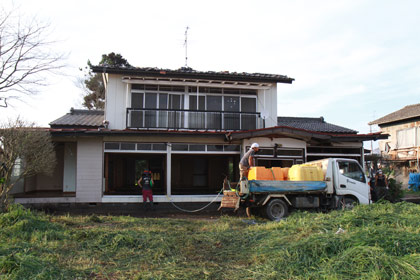 As autumn arrived, the evacuation orders have been lifted little by little. Schop-Dan's activities may gradually change, too. But for now, the basic "9:00am at Yamashita station" assembly remains.
On our way home in the car, Shigesato Itoi talked about Schop Dan's name.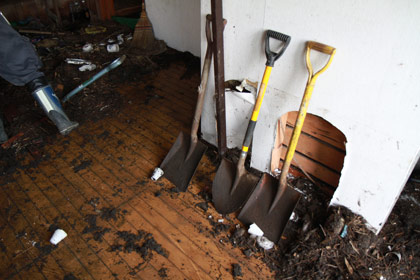 "Shoveling is fundamental to all hard labor. You aim, stick the shovel in, lift, then carry. The name 'Schop-Dan' is great because the 'schop' (shovel) is the most essential part of their work."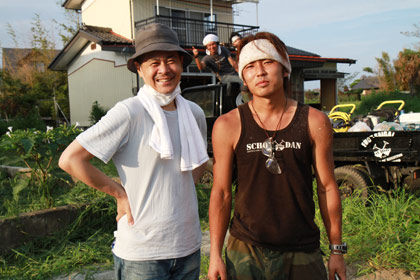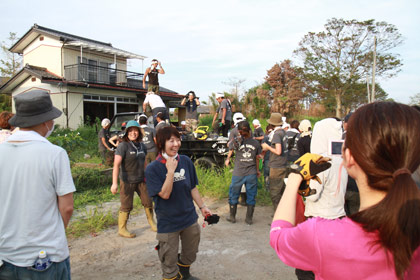 It moved my heart when I saw the smiling faces of the family now with their house cleaned up. Likewise when I saw the smiling faces of the Schop-Dan volunteers, always caring for each other during breaks.
There are Schop-Dan volunteers who lost their loved ones in the March 11th disaster. We see the same house and the same scenery, but they must be feeling and remembering very different things.
We received an email from a Schop-Dan organizer after we returned to Tokyo.
"It was very touching to see you all covered with mud, yet still saying 'We'll come back'. We hope we can pick strawberries together next strawberry season for some tasty local Yamamoto-cho berries."
The town is progressing rapidly. Even the strawberry farmers might soon be back on their feet.
We'll be reporting again on the town in the near future.
(To be continued)