Introducing Hobonichi Techo Accessories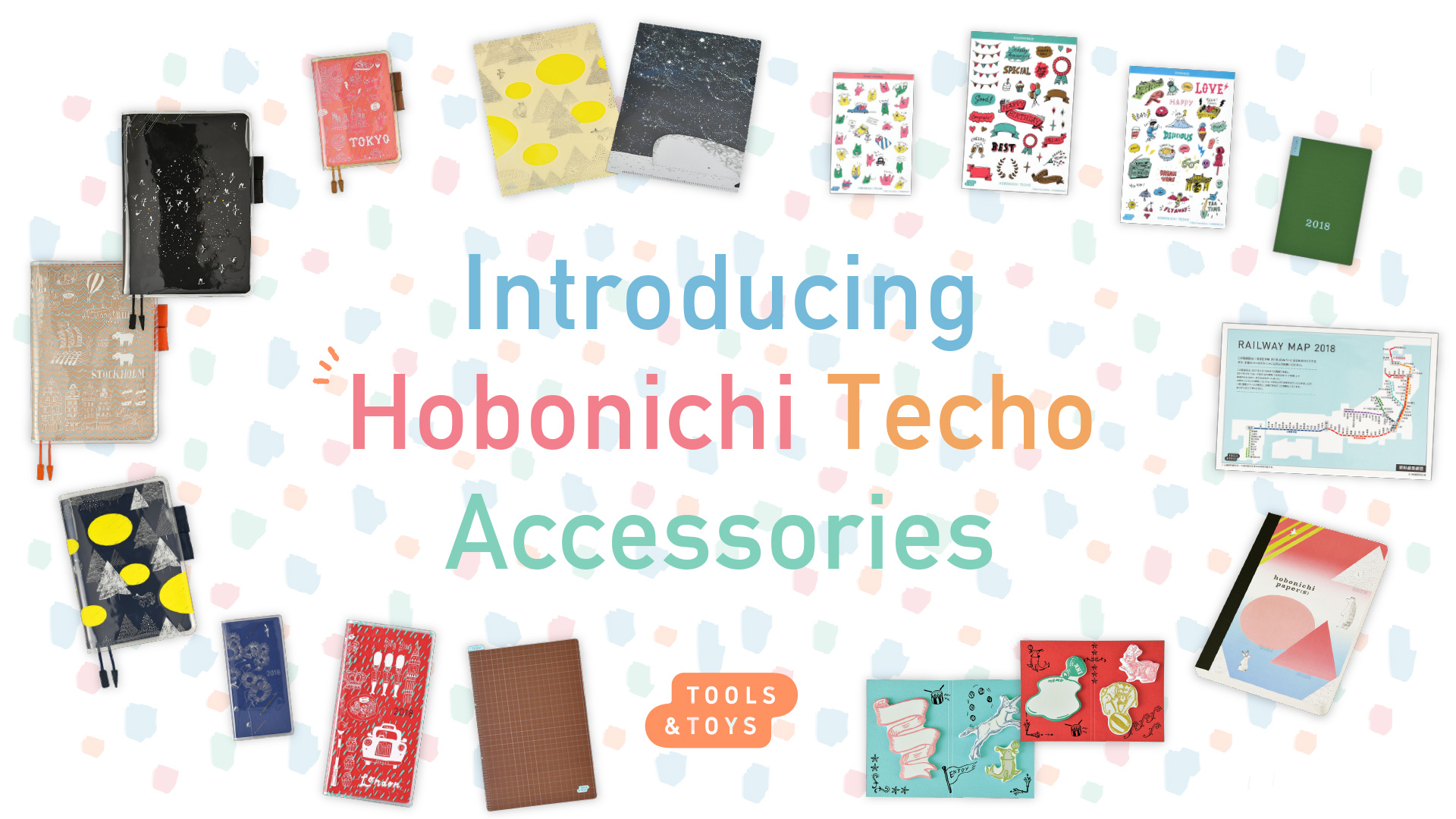 The Hobonichi Store offers an array of original accessories specially-designed to work with the Hobonichi Techo. This year, we're adding a few new items to this collection. These new products will go on sale with the rest of the Hobonichi Techo lineup on September 1st, 11 AM Japan time. Here's an early look at some of our top recommendations.
---


Cover on Cover "Light" for Planner / Original

Cover on Cover "Beginnings" for Cousin

Clear Cover "Circling Stars" for Weeks

Hobonichi Folder Set by hatuca for Planner / Original

Hobonichi Folder Set by hatuca for Cousin

Hobonichi Paper(s) "Hello Goodbye."
We've paired up with illustrator hatuca to create these Cover on Covers and Weeks Clear Covers to protect your covers, Clear Folders to store smaller items, and Hobonichi Paper(s) notebooks with easy pull-out pages. The illustrations retain the feel of the delicate touch of pencil and watercolor. All of these fascinating hatuca illustrations feature animals living in harmony. There are polar bears, rabbits, anteaters, and alpacas, with whales swimming through the sea and birds flying across the sky. These accessories were designed in a way that would allow users to admire them as they would a work of art.
---


Cover on Cover "Tokyo" for Planner / Original

Cover on Cover "Stockholm" for Cousin

Clear Cover "London" for Weeks

Hobonichi Mini Letter Sticky Notes "Circus"

Hobonichi Stickers - Anniversary / Ordinary / Today's Feeling
Illustrations by creative design group Bob Foundation are popular for their exciting blends of words with pictures. The A6 and A5 size Cover on Covers and the Weeks Clear Cover are each illustrated with city themes, namely Tokyo, Stockholm, and London. The fun illustrations feature famous icons of the cities, and are drawn in white lines with a single color making up backdrops of waves, raindrops, or other patterns. In addition, the Hobonichi Mini Letter Sticky Notes "Circus" can be used to pass messages to others or paste in your techo pages as an index. Finally, the Hobonichi Stickers are sets of cute pictures to supplement your pages with how you're feeling that day.
---


Hobonichi Pencil Board

Hobonichi Japan Railway Map 2018

Hobonichi Weekly Calendar 2018
These three items are some of our best sellers. The Hobonichi Pencil Board acts as a firm surface beneath the page, making it easier and more comfortable to write with. Customers claim that ballpoint pens become easier to write with, and that once they start using the pencil board, they can't go back. This year's new color has a chocolate-brown base with light blue lines. Continuing from last year is the dark green and light brown color scheme.
Also returning to the lineup is the Japan Railway Map 2018, which is a group effort with readers who contribute by checking accuracy and submitting any updates. The Hobonichi Weekly Calendar 2018 is also a great add-on and contains the same Tomoe River paper as the Hobonichi Techo.
---


Dear DoctorS 5-Year Health Diary

Hobonichi Pet Health Booklet

Hobonichi Mini Game Book
These items are already available in the Hobonichi Store, but their slim size and light weight make them very popular add-ons to carry alongside the techo.
The Dear DoctorS 5-Year Health Diary contains 5 years' worth of entries to track your health and physical condition, and was designed with the help of a doctor.
The Hobonichi Pet Health Booklet provides a place to track health and other information for your furry family members.
The Hobonichi Mini Game Book contains crossword puzzles and other quick games to keep you occupied when things are slow.

Feel free to browse the rest of our accessories lineup, with almost 350 kinds to supplement your Hobonichi Techo!