What is the Hobonichi Techo?
The Hobonichi Techo is a planner notebook created by staff members of the website Hobo Nikkan Itoi Shinbun, shortened as Hobonichi. Techo (pronounced "tetch-oh") is a Japanese word for a planner notebook.
We also describe the Hobonichi Techo as a Life Book; it demonstrates the planner notebook's versatility and freedom that accommodates every user's unique personality and lifestyle.
It first came out as a 2002 edition, which was created when the members — who weren't professional planner designers — decided to get together and create a brand new kind of planner that they would actually want to use themselves. There are 18 years of history behind the current book.
New varieties have appeared over the years in response to customer requests, and all the techos improve every year based on these requests and feedback.
New cover designs are released every year so that using a Hobonichi Techo carries an extra sense of excitement and enjoyment.
In recent years people from all over the world have begun to use the techo — there are now over 780,000 users worldwide!
Here are a few features of the Hobonichi Techo.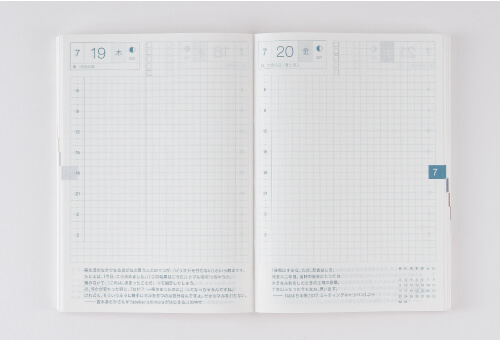 1.
An open, intuitive layout
The book's beautiful layout was carefully designed to be intuitive and easy to use. The graph-lined paper contains lots of open space.
2.
Original daily quotes
Each page has fun and interesting daily quotes chosen from articles published on the Hobonichi website.
3.
Strong, comfortable construction
The techo's light, durable Tomoe River paper means the book can be hundreds of pages long and still remain compact. The Planner, Original, and Cousin books open completely flat and are comfortable to write in.
4.
Cover designs to fit your style
Each year brings a new lineup of about 80 cover designs, including collaborations with artists and brands.
5.
Endless ways to use the book
Techo users are always finding new ways to use the Hobonichi Techo and sharing their ideas. We collect these ideas and share them on our website and in the Official Techo Guidebook (Japanese).
Here are the Hobonichi Techo types for the 2019 lineup.
Planner
A6 size / One page per day / English
Original
A6 size / One page per day / Japanese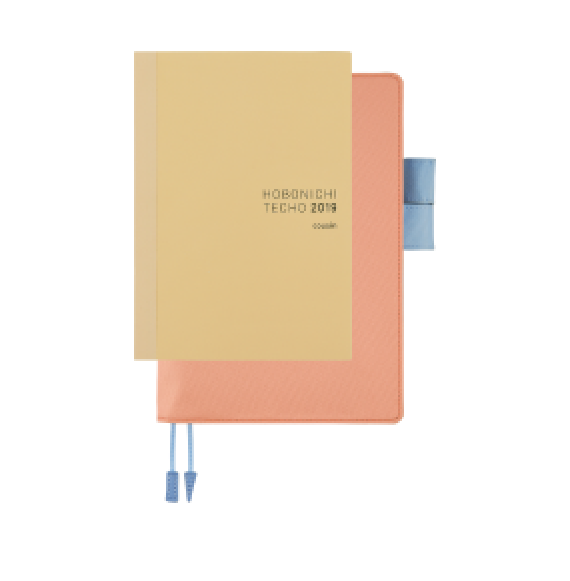 Cousin
A5 size / One page per day / Japanese
Weeks
Slim vertical size / Weekly format / Japanese
Simplified Chinese Original
A6 size / One page per day / Simplified Chinese
Hobonichi 5-Year Techo
A6 & A5 size / Five years in one book / Japanese
Here are some ways you might use the techo.
Keeping a single book where you can write in anything you want makes everyday life a little more convenient, and a little more fun.
Why don't you try out a Life Book of your own?