Shigesato Itoi Visits Arino Kacho's Challenge Room — Talking 30 Years of Mother — Arino Kacho (Shinya Arino from Yoiko) x Shigesato Itoi
Shinya Arino, one half of the comedy duo Yoiko, stars in the variety show GameCenter CX (Fuji TV ONE) where he takes on various video game challenges. The show, which debuted 16 years ago, centers around a fictional game development company where Arino, the manager ("Arino Kacho"), plays through retro video games. We were approached by the show to make a Custom Edition Hobonichi Techo Weeks, and just as it was released Arino played through Shigesato Itoi's game Mother 2 (released in North America as EarthBound). Itoi came to visit Arino Kacho in the Challenge Room while he made his way through the game. They talked about their memories of the game on the 30th anniversary of the original Mother title.
Introducing the GameCenter CX Hobonichi Techo!
—Arino, I must tell you. We put something together for the show. It's a GameCenter CX Hobonichi Techo!
Arino KachoOh my gosh, no way! Wow, it matches my work uniform. (Laughs)
ItoiNintendo employees used to wear this uniform over their suits.
Arino KachoThat's right. Except for the game creators.
ItoiEveryone hated it. (Laughs)
Arino KachoThey complained about how tacky it looked, but I wear this one because they used to.
ItoiOh, I see.
—16 years ago, when GameCenter CX first aired, we wondered how people at game companies dressed. We figured this was as close as we could get, so we got Arino this uniform.
ItoiNintendo was the only one making people wear this uniform, you know.
Arino KachoWe interviewed creators from lots of companies, and no one was wearing it. (Laughs) Nintendo was our last stop, and at last we saw them.
ItoiDid you know there's actually a work uniform like this one designed to look like a suit? I have one — at a glance it really does look like a suit.
Arino KachoThere's a business suit version? Is it made with the same material?
ItoiYeah, it's the same material, but it looks just like a suit.
Arino KachoAw man, we should have bought that one! I was working with an orchestra recently, and I wore this uniform with a little bowtie. It looked weird. I wish I'd had the suit version for that.
ItoiThey're pretty interesting.
We've created a Custom Version Hobonichi Techo Weeks by request of GameCenter CX. The book is illustrated on the front and back with pixel-art versions of Arino Kacho and other characters against a background color that matches the work uniform he dons to play classic games. Bonus content in the back of the book includes a list of terminology written by Producer Kan to help follow along with the show. The book also comes with an Arino Kacho Business Card (Hobonichi Techo version). The book was available at the GCCX show booth at Tokyo Game Show for early sales on September 12–15, 2019. Standard sales begin October 1st at HMV and HMV&BOOKS stores across Japan, HMV&BOOKS online, and Loppi.
*Not for sale through the Hobonichi Techo Official Store.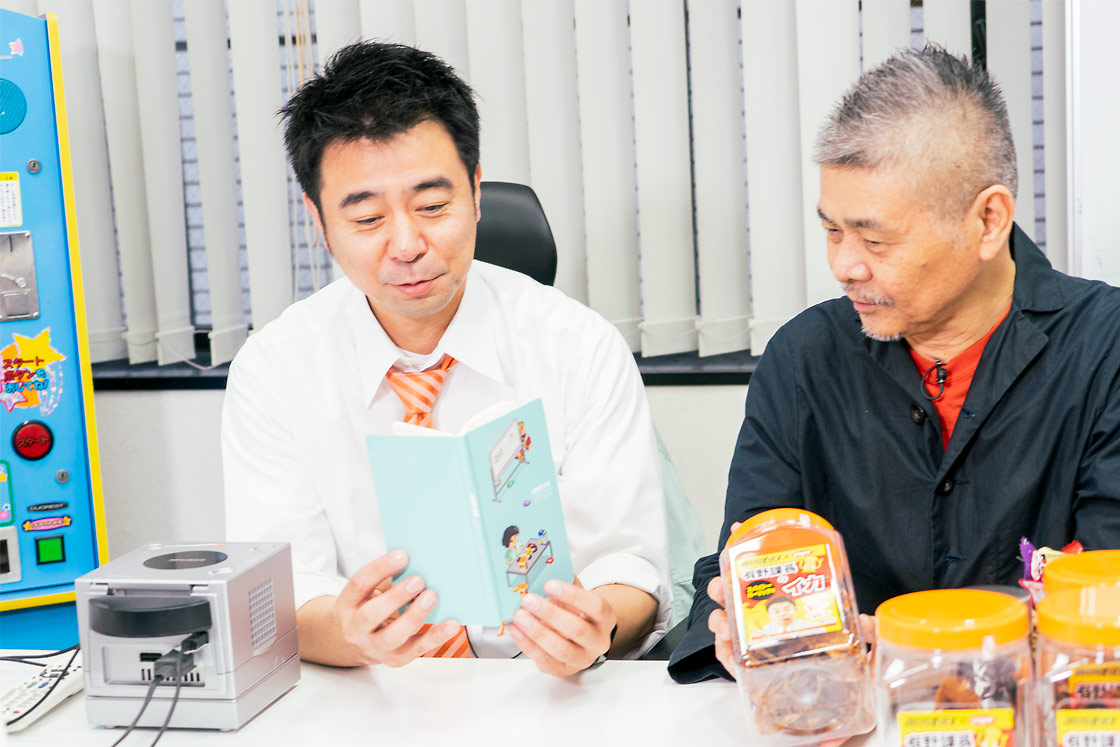 Mother 2 Hobonichi Techo covers for sale on the Hobonichi Techo Official Store!