A Professional Look at the "Incredible" Leather of TS 2020
Graphic designer Taku Satoh chooses the leathers used in the TS leather techo cover series. This year's leather is an especially stylish selection; unique oil blends have been applied down to the very fibers, giving the leather a remarkable look and feel. This leather is imported and sold by leather professional Hiroki Tanabe (Kyoshin Elle & Co., Ltd.), who is here to tell us all about it.
> About Hiroki Tanabe
Part 1 of 2

A leather you've never seen or felt before.
Kyoshin Elle always provides us with the leather Taku Satoh chooses for the leather TS cover series. We're so thankful to have you model the TS 2020 cover photography for us this year!

Tanabe

I was so nervous. (Laughs)
This year, you chose 30 different black leathers of various appearances and textures for us to browse through as candidates for the TS 2020 cover.

Tanabe

That's right. We did our very best to gather the best leather from around the world, with different options from France, Italy, and even Japan.
And this is the leather that was chosen. It sounds like Satoh made his usual snap decision.

Tanabe

Every year, Satoh is able discern the winner at a glance. He's really something. I actually thought about how different this particular leather was when I added it to the list of candidates. He probably had the same gut reaction that I did.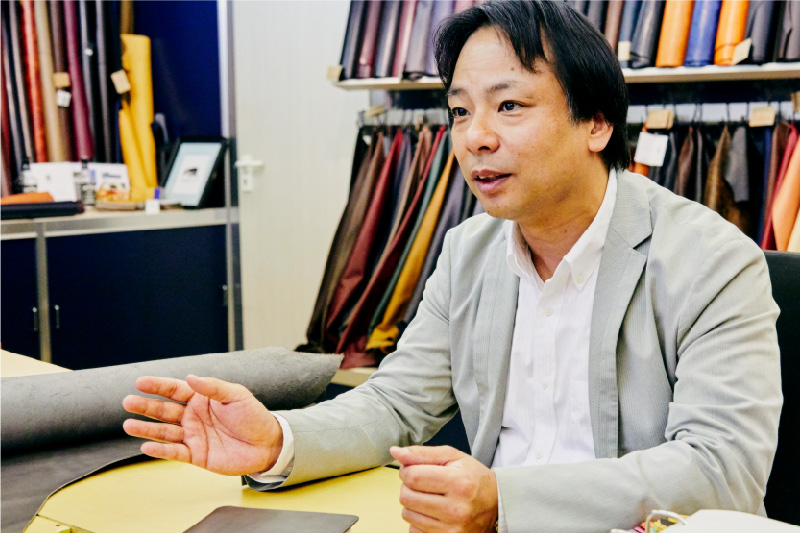 How is it different?

Tanabe

Last year, I traveled to a leather convention in Italy called Lineapelle to search for some especially interesting leathers I could present as candidates for the TS 2020 cover.
Lineapelle. That's held in Milan, right? Isn't it the world's largest leather market?

Tanabe

It is. There are about 1200 companies from around the world exhibiting at the event every year, and you can see over 10,000 leather samples lined up—it just goes on forever. So I went down the line looking at nothing but black leather. (Laughs)
It sounds like this leather stood out from among all the other leathers you saw there.

Tanabe

This was a brand new product at the September 2018 event. This black leather doesn't end up actually looking black, because of the white wax that's been applied to it. I thought it was really interesting from the moment I laid eyes on it.
White wax?

Tanabe

There's a leather called bridle leather, and it's made by applying something called "white wax." At first I thought it was just applied to the surface, but it actually goes much deeper than that. The process used to create this leather has been refined through a long process of trial and error.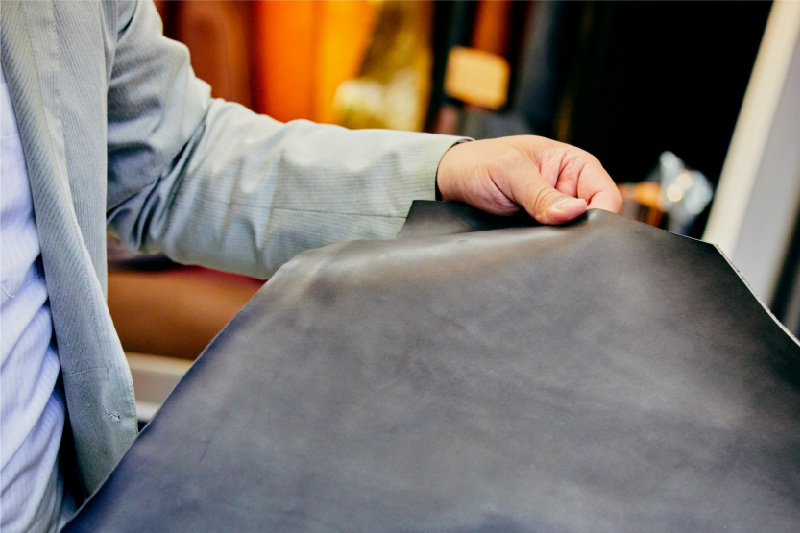 Could you tell us a little more about the leather?

Tanabe

The white wax seemed so different to me that I contacted the tanner in Italy and asked them all about it. They explained that the wax was not actually applied to the surface in a conventional way — blocks of hard wax were heated up, melted, and mixed with several different types of oil to create an original mixture that penetrates deep into the fibers of the leather. The oils gradually make their way up to the surface of the leather, giving it this really unique and fascinating appearance.
Wax isn't usually applied from inside the leather, right?

Tanabe

It's difficult to do, so it's not a common technique. The company that made this one wanted to try something they've never done before, and this is what they came up with, after a lot of refinement.
What makes it stand out the most from standard leather?

Tanabe

The biggest difference is its unique kind of texture. It's really hard to explain with words, but if I had to summarize it... it just feels really good. (Laughs) You can just tell holding it in your hands that there's something different. It's like a sensation you've never felt before.
Every year, you look at 10,000 different leathers at Lineapelle, and you handle more types of leather than you could ever count. Even so, you've told us that this leather is like nothing you've ever felt before.

Tanabe

That's right. I make all my decisions and judgements with my fingertips.
And this leather is the one that really jumped out at you.

Tanabe

The tanners combined three different kinds of oils (from animals, plants, and minerals) to create the special sense of touch in this leather. I'd never heard of a method like that before.
They blended three kinds of oils together?

Tanabe

Animal and plant oils soak into leather, but mineral oils don't — they stay on the surface and provides a kind of protective film. This keeps the leather moisturized. You may not hear much about mineral oils, but they're used in beauty and cosmetic products as well, especially petroleum jelly. Carefully blending these different oils balances the leather's sense of pliability and touch.
It seems like a really amazing technique.

Tanabe

It's really common for tanners in Italy to employ dedicated experts who serve as a sort of in-house chemist. Leather like this is created through a careful balance of scientific knowledge and the discernment of tanners.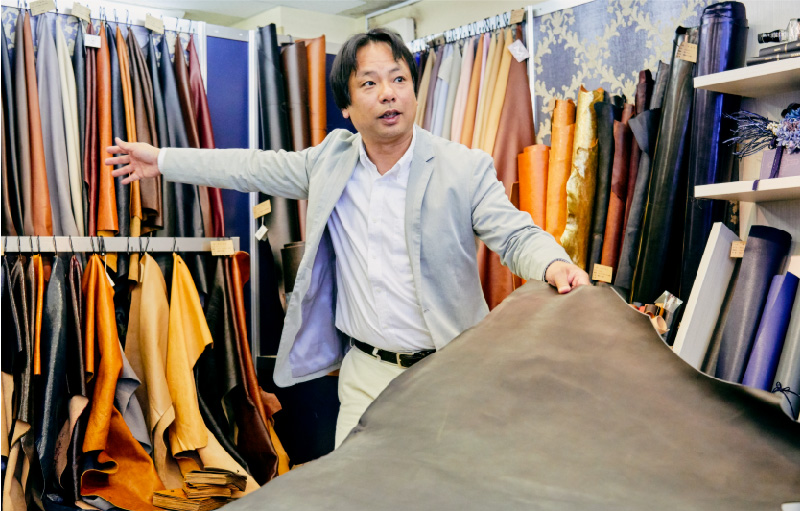 The color of this leather is also gorgeous. It's almost hard to describe its color. At first it seems black, but depending on the way the light hits it, it can seem gray or khaki-colored. It's really dynamic.

Tanabe

It really is the kind of color that you've never seen before, also. The mixture of wax and oil I mentioned earlier gives the leather a complexity that's different from dyed leather. It's got a lot of depth to it.
How will this leather transform as it matures over time and continued use?

Tanabe

As you handle the leather, the oils still inside the leather will emerge and soak into the surface. It starts to feel silky.
Ooh, silky.

Tanabe

And if you don't touch the leather for a while, the oils begin to recede back into the leather, and the cover will feel a little more textured. In other words, the soft leather feels a bit like skin; because it breathes through pores, its appearance changes over time based on the climate and environment.
So the leather really is breathing. If you use it for a long time, does it develop a shine?

Tanabe

Touching it applies oils from your own hands, and a shine develops when the leather rubs against other surfaces. So this leather undergoes the same kind of long-term maturation you'll see in standard natural leather. Combine that with the unique changes that come from the oil blends inside the leather, and you'll see different types of aging and maturation based on how you treat your leather and the environment it's used in.
(Continued)Photography: Masanori Kaneshita