Tomitaro Makino: Nojigiku / Botanical Art of Tomitaro Makino
This year's Hobonichi Techo 2020 lineup includes the Weeks book Tomitaro Makino: Nojigiku. The book begins sales on September 1st, 11 AM Japan time, and we'd like to take this opportunity to talk about about the Nojigiku illustration in addition to Dr. Makino's other botanical charts.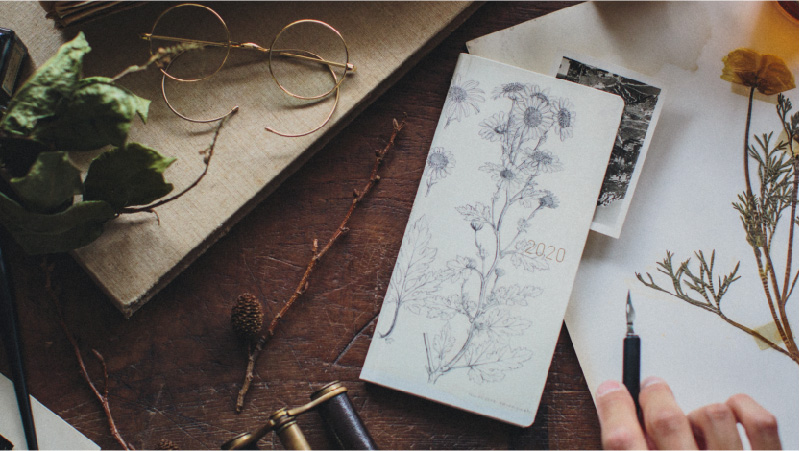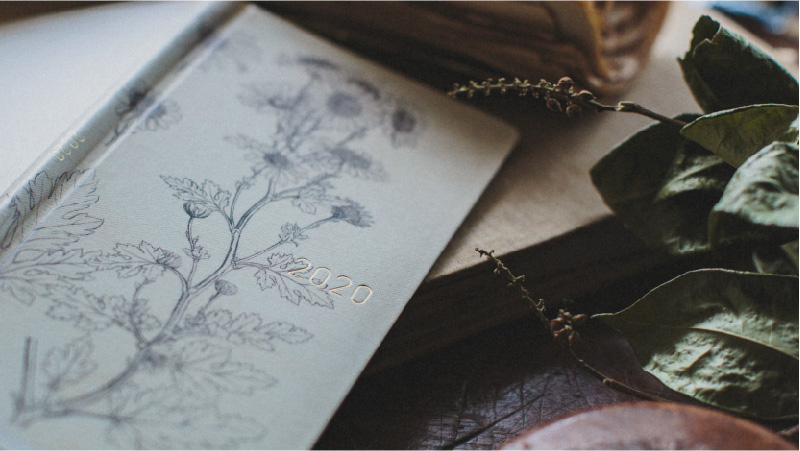 For this 2020 edition Weeks book, we chose to highlight the nojigiku flower, otherwise known as "Chrysanthemum japonense."

This autumn flower, part of the chrysanthemum family, has a simple beauty. It's a perennial herb unique to Japan that mainly grows on rocky shores.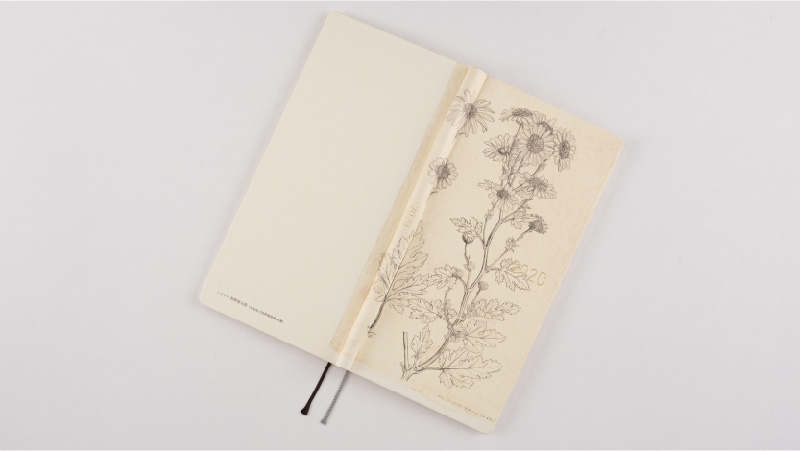 Dr. Tomitaro Makino discovered the flower growing along on a natural path through a field in 1884. He named the flower nojigiku, which means "chrysanthemum along a wild path." It's famous among all the flowers associated with Makino as a quintessential autumn flower.

The amazing, true-to-life illustration draws out the features of the nojigiku, right down to the buds and the details of the leaf shape, as they were observed behind a loupe and a magnifying glass about 130 years ago.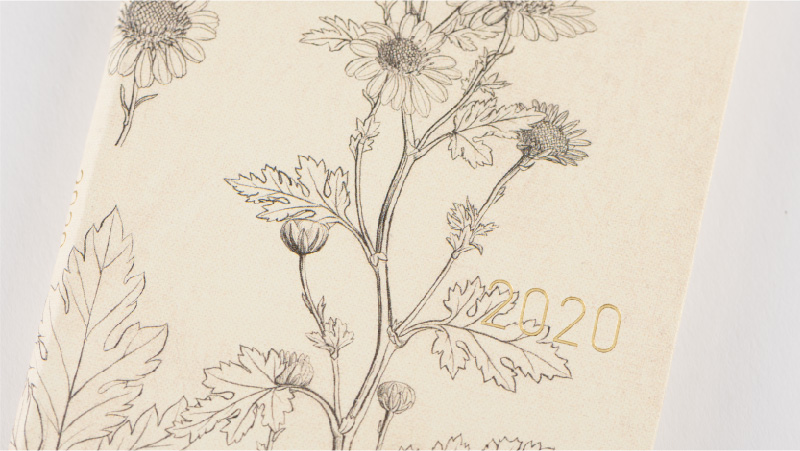 Dr. Tomita Makino's strength as a researcher was his ability to do everything himself, including research, collection, and drawing. Makino's natural talent and intelligence, not to mention his self-taught artistic ability, allowed him to navigate independently through his field.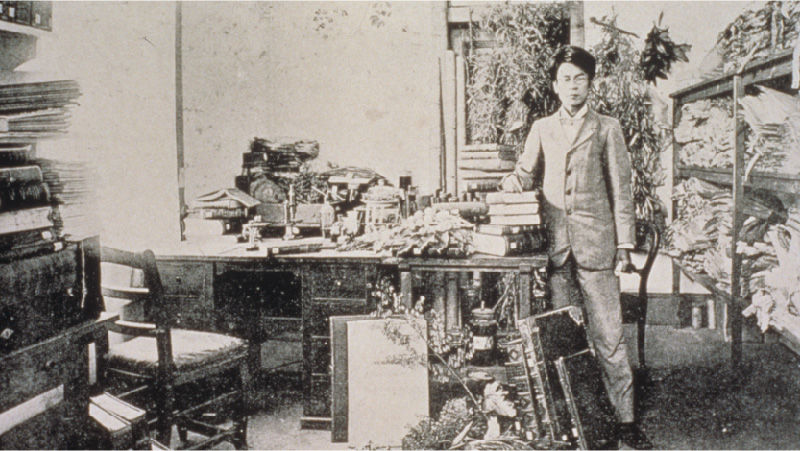 Normally, a completed botanical illustration would be sent to specialized printers to be published as a botanical chart. Dr. Makino, concerned that the printers wouldn't be able to complete the process up to his standards, decided to learn printing skills himself. He studied lithographic printing for a year at a print factory with the goal of publishing a botanical magazine he would be satisfied with, even leaving behind records of incredibly detailed edits for all his pictures.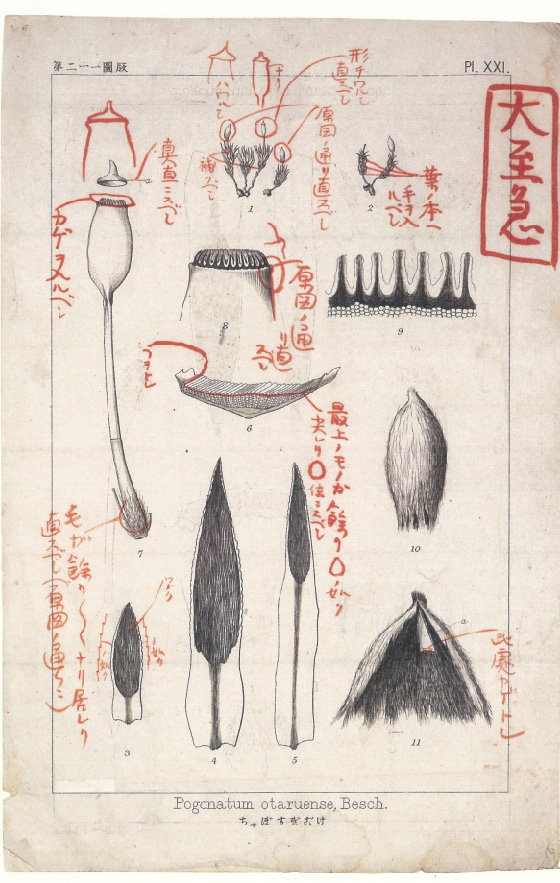 Dr. Makino established a modern chart called the "Makino-Style Botanical Chart," which conveys and organizes all components of a species, including dissective and segmentary views of reproductive organs, nutritional organs, and a comprehensive look at the seeds. The charts observe several examples of a species and present them as typical of that species rather than creating a set standard; while they compare obvious variances such as size and length, they also provide close observation of areas hidden underground like roots and rhizomes, transformations over the course of a plant's lifespan and across seasons, and its morphologies and ecologies.

As a young man, Makino wrote a guide to studying when he decided to become a botanist.
This excerpt is from a list of 15 articles in his guide.
The need for precision

Whether observing, experimenting, comparing, or writing descriptions, any unknown or unclear aspects must first be worked out. Stay precise and don't leave anything half-done.
Dr. Makino moved to Tokyo in 1884. Around that time he frequented the botany department of the University of Tokyo, known as a major hub for plant research. This techo cover is printed with the nojigiku botany chart he drew in 1887, when he was a 25-year-old who dreamed of publishing a botanical magazine. The influence Makino took from western botanical books is apparent in his compositions and shading; now you can feel the intricacy of his work in your own hands.Photograph/information provided by the Makino Botanical Garden.
Reference materials from Botanist Tomitaro Makino's Illustrated Book of Life (Heibonsha) and The World of Dr. Makino's Botanical Illustrations (Kochi Prefectural Makino Botanical Garden).*Details for "Makino Botanical Garden x tretre: Makino Original Blend Tea - Set of 3" will be revealed on August 28th.