CO- and Buttons of the World
The Search & Collect techo cover in the Hobonichi Techo 2020 lineup is designed to showcase the brass button on the front.
We worked with vintage button specialty shop CO- to make a special reproduction of an antique button from England.
We talked to CO- store manager Naoko Kosaka about this special button.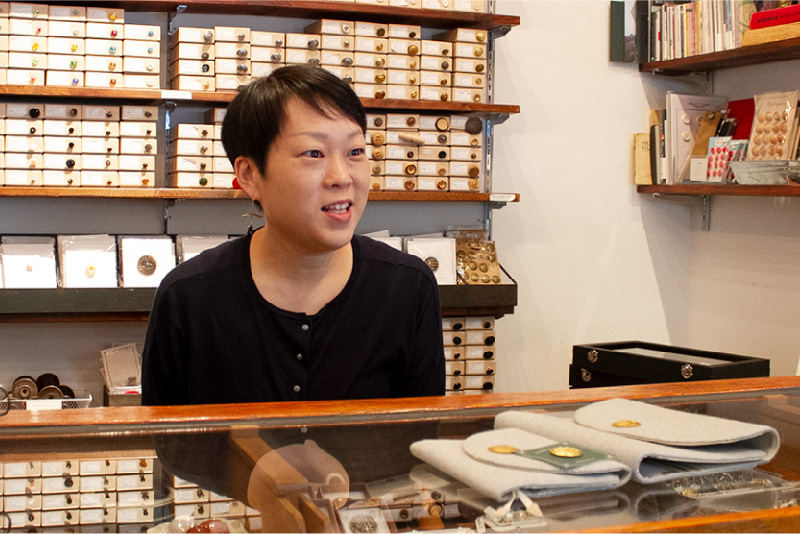 The Search & Collect cover began with the idea of working together with you to make a cover with a lovely button on it. How did the direction turn to reproducing an antique button?

Kosaka

At first we considered using actual antique buttons, purchased directly in Europe, but we wouldn't have been able to source enough stock to make a run of techo covers. That's when we decided to just make some. We picked out a button from England we'd bought the year before and decided to bring it back to life — though we tweaked the size and shape a little for the techo cover. We did keep the honey bee and flower motif from the original.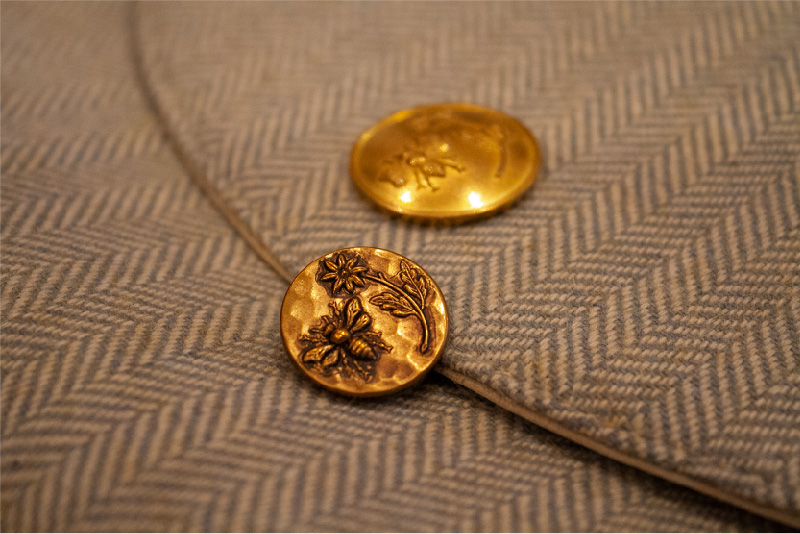 The original button is so small.

Kosaka

Isn't it? The original button has a thin layer of brass over it, so even if we tried to replicate it, the new one would turn out totally different. That's why we decided to reproduce it in a way that would work well with the techo cover and give the brass button a commanding presence. The original button is flat, but the reprinted version has a nice soft arch to it.
Oh, so it does! Is it common for antique buttons to feature a symbol of luck—like a honey bee in this case?

Kosaka

Yeah, it's a pretty common motif. It's on a lot of jewelry, too.
Did you have a button-maker work on the reprint?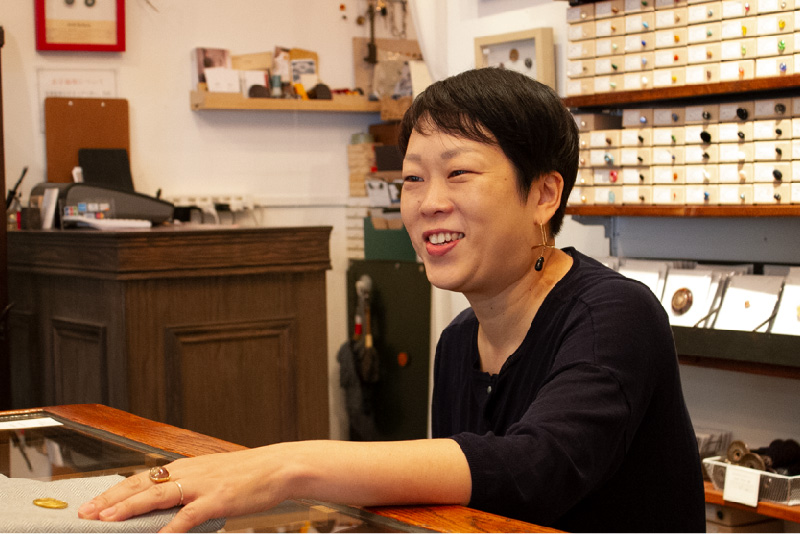 Kosaka

Yes, we worked with a company in Tokyo. The person who made the prototype and the factory who pressed the full run are both in Tokyo.
So it's a Made in Tokyo button.

Kosaka

Right. It was a really interesting manufacturing process. The prototype was actually four times this size.
Four times as big?

Kosaka

The button design was hand-carved by the prototype artist. We'd requested a hand-carved design because we knew that would turn out way better. That's when we learned about the process of making a prototype four times as large and then having the file entered into the computer at a quarter of the size. The prototype artist wanted to go that route, so we deferred to their judgment.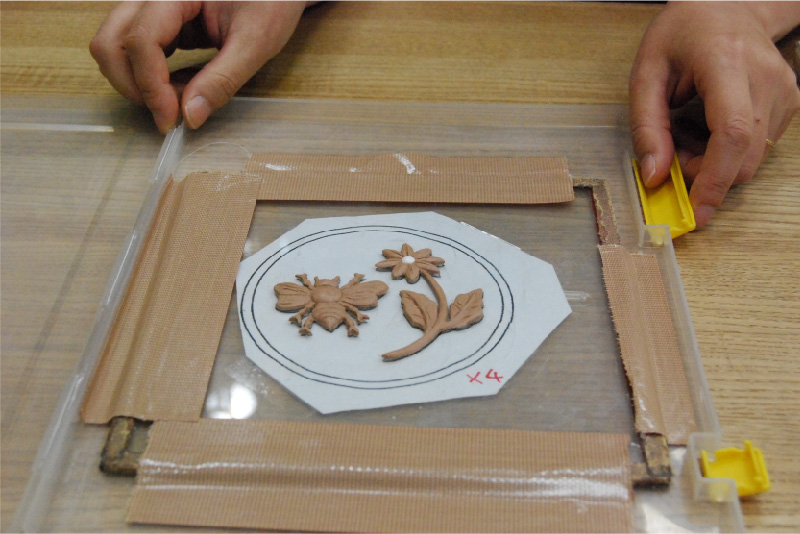 It turned out really precise but at the same time it's got that warm, handmade touch. As time passes and the brass begins to darken, the bee and the petals will really pop.
Brass starts out shiny but changes color pretty drastically over time.

Kosaka

It's like how leather ages over time, darkening the more you use it. At first we considered making the buttons in an antique gold color, but we realized it would be better to have the user be the one to personally see it through that antiquing process.

We could have made it start out even more polished, but we kept it rough enough that it wouldn't get too shiny.
It's so great to see that sense of something changing as you use it be a part of something besides leather.

Kosaka

Yeah, I love it, too! It's wonderful. I hope many people out there come to experience it.
Say, is this the sample we gave you before? Wow, it didn't take long for the colors to start changing. It's adorable!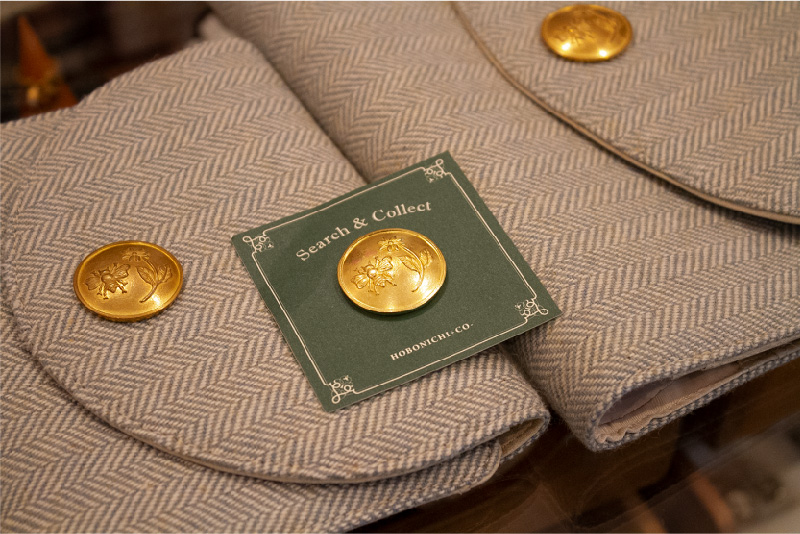 Kosaka

This looks great. Now that we're using techos for the year 2020, I want to look back on this decades from now and think, "This is the techo I used during the Tokyo Olympics." The cover is probably going to look amazing by then, and the button is so sturdy that if you've taken good care of it, you'll actually have a next-generation antique on you.
Wow, to think we could personally see something through until it's an antique.

Kosaka

It's my dream for this button to be passed down through generations. (Laughs)
Buttons are so amazing. You can hang onto them for decades.

Kosaka

Definitely. Depending on the materials, buttons can last forever. When we go overseas to buy stock, we meet people who tell us, "This is my grandmother's button." I think people in Europe see buttons kind of like an ornamental clip.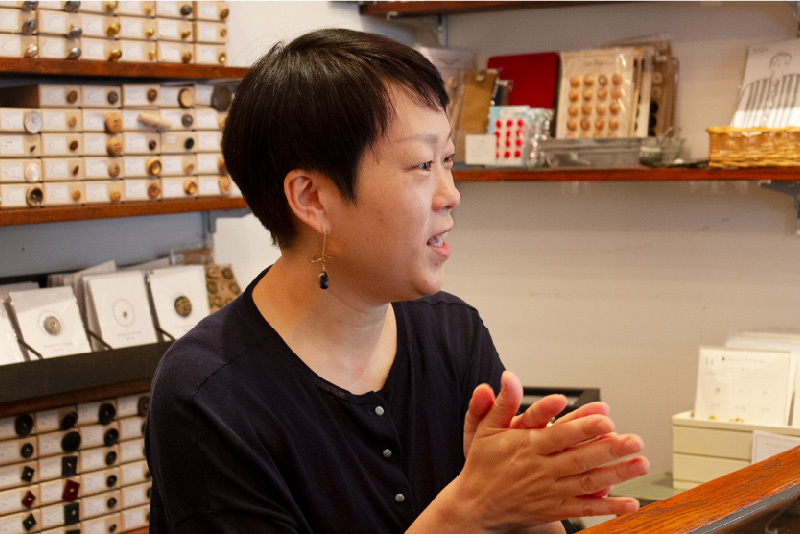 Kind of like jewelry?

Kosaka

Yeah. Sometimes buttons are made in the same factories that produce jewelry. Back in the old days, a button and a brooch would be made of exactly the same thing, with the only difference being whether it had a clamp in the back to make it a button or a pin in the back to make it a brooch.
That feels a bit different from buttons in Japan.

Kosaka

Japan doesn't really have a history with buttons. Western-style clothing didn't come into fashion until after the war. There were some really nice buttons being made during the bubble economy, but mass-production has since become king. So there's not a long stretch in Japan's history where we had really nice buttons. But all that aside, I'd love for people to enjoy buttons being made in Japan this way.
Hearing that backstory makes it really heartwarming to have a button on hand that's been made in Japan, and in Tokyo, no less.

Kosaka

We're thrilled by it as well. Our company names are written on the back of the button, so maybe generations down the road someone will examine their hand-me-down and look up Hobonichi and CO-.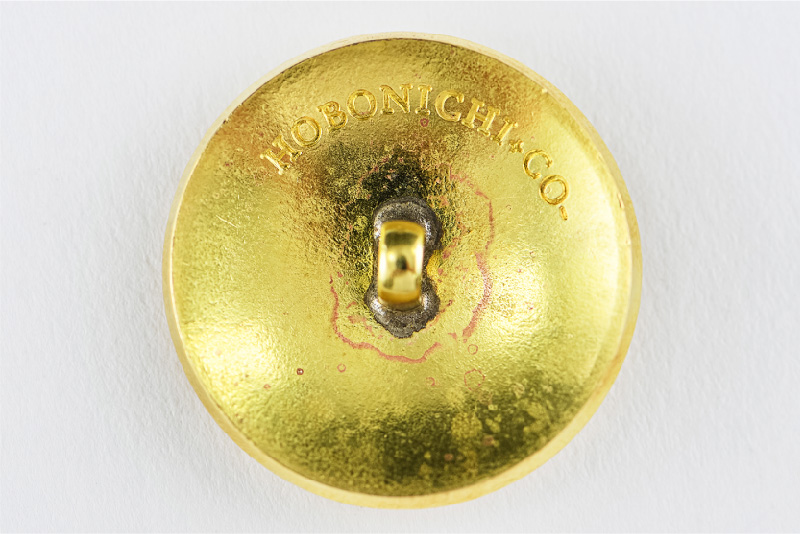 What do you look for when buying buttons?

Kosaka

Just by looking at a little button, I can imagine all kinds of scenes — how we could use it on something, or what kinds of things we'd be able to attach it to. I want to collect all those buttons that really set off my imagination.

While older items are only getting more rare, every time I go shopping for buttons I see something I'm shocked to find.
I'm sure all these buttons have special stories for you, but is there one that really stands out?

Kosaka

For glass buttons, I'd have to go with Bimini Buttons. Bimini is a company famous for having Lucie Rie work at their studio. For plastic buttons, I'd say the American company Bakelite. There's also hand-carved buttons from Italy. This could get a little long. (Laughs)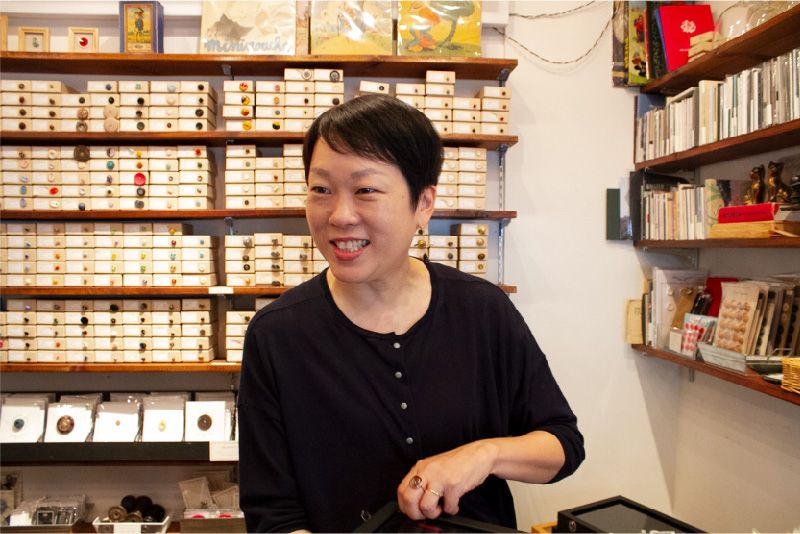 I'd love to hear it.

Kosaka

In France, there are lots of high end, haute couture buttons that are hundreds of dollars each and made in small workshops identified by name. But in Italy, you can look through a sample book at some normal factory and find some buttons with unbelievably elaborate designs.
So you can have normal, everyday clothes with incredibly fancy buttons on it.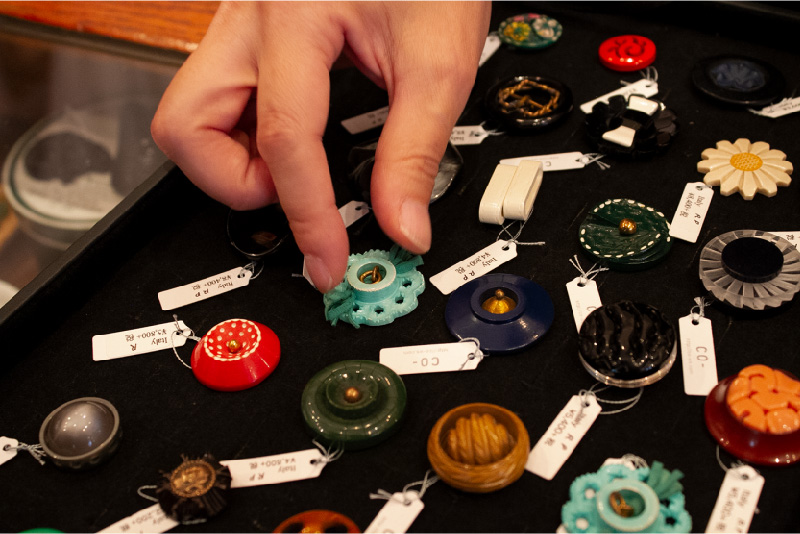 Kosaka

Yeah. Since it's from a sample book, there are lots of designs, and many seem like they would be really hard to make if someone were to order them.
So I've got different buttons I like for each country.
What about the button from England that's been reproduced for us?

Kosaka

England is the land of uniforms, so metal buttons are their specialty. They've got a lot of livery buttons, which are made for uniforms. If a butler worked at the house of a nobleman, his buttons would bear the noble family's crest. At the end of the 19th century, there was a rapidly growing class of wealthy businessmen who had no crest, so they demonstrated their status by having their own initials drawn out in fancy lettering on buttons, and putting those buttons on the uniforms of their servants.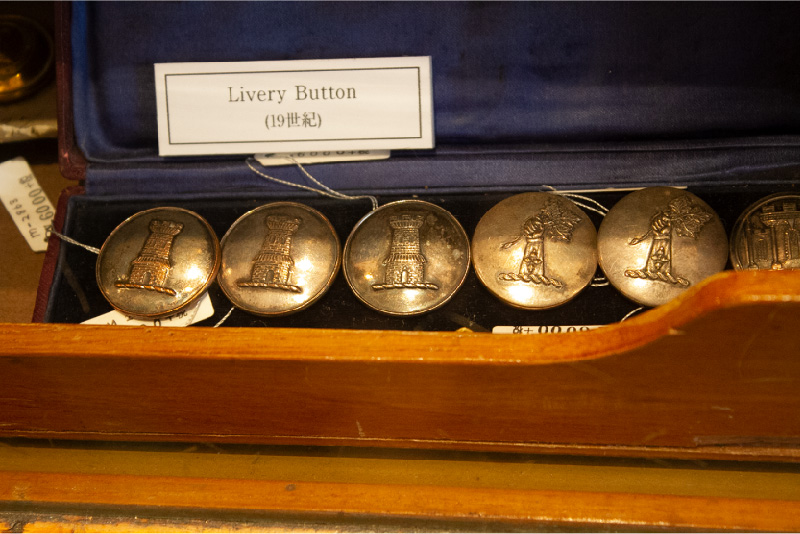 I see. The button for the techo covers isn't quite the same as what was used in uniforms, but it is a metal button engraved with a lucky symbol.

Kosaka

Yeah, that's the one we've reprinted. This button, though... it's seriously adorable.
It's cute, isn't it?

Kosaka

If I ever meet the original designer in heaven, I want to tell them how we brought their design back to life. Until then, I'll be treasuring this button.