The Definitive Edition for the 20th
Edition of the Hobonichi Techo!
87 usage examples for beginners,
masters, and everyone in between
Everything from free and fun usage examples to a look at the full 2021 cover lineup is available at your fingertips in this year's Hobonichi Techo Official Guidebook, which hits the shelves in bookstores across Japan and online retailers like Amazon beginning August 25th.

We've crafted this year's guidebook to be the definitive edition to mark the techo's 20th edition. It's filled with years of usage examples we've carefully curated to benefit both first-time and long-time users.
Intro Comic: Planet of the Hobonichi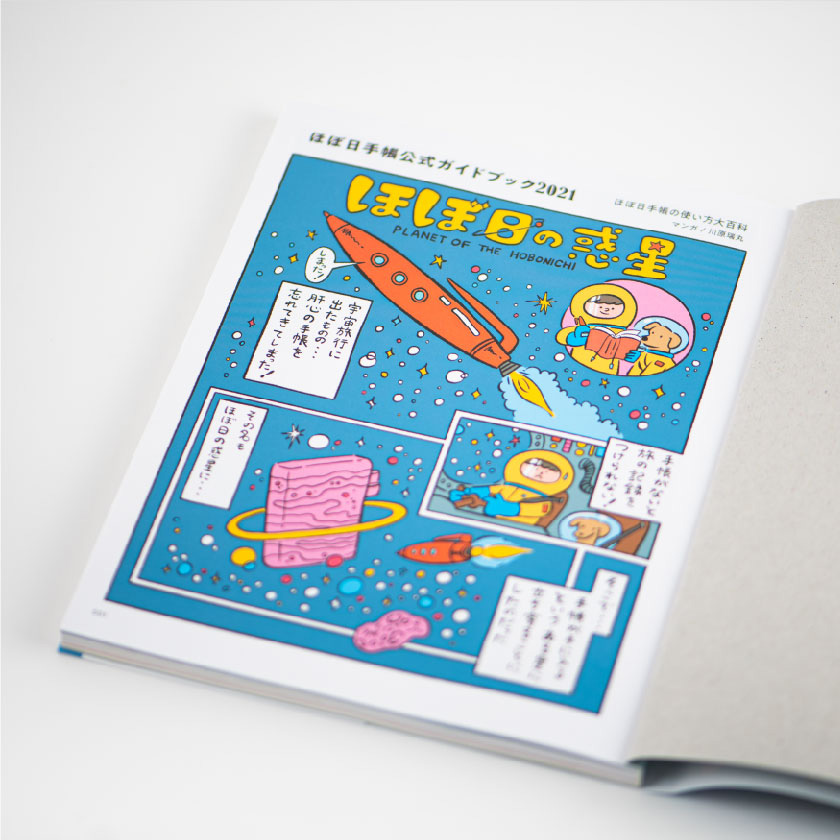 This year's guidebook begins with a comic! Illustrated by Mizmaru Kawahara, you'll recognize it in this year's cute cover. It starts when a space-traveling boy searching for a techo he can use to record his travels lights out for the Planet of the Hobonichi. When he arrives, he finds a population composed entirely of Hobonichi Techo users, all of them using their techos in their own unique way. So, what kind of usage examples will our traveler document after discovering the Hobonichi Techo? This is where the techo's endless possibilities begin.
Hobonichi Techo Usage Encyclopedia Chapter 1: Starting Out
This year's guidebook is themed like a Hobonichi Techo Usage Encyclopedia. There are three steps: Starting Out, Keeping Up, and Mastering. The first chapter is all about getting started. We've interviewed people at the very moment they first begin writing in their techo, people who are interested in trying one out, and people who are thinking about how they'd use one every year if they decided to give one a try. It's the perfect place for new users to find pointers on choosing a Hobonichi Techo as well as usage examples that are easy to follow.
Hobonichi Techo Usage Encyclopedia Chapter 2: Keeping Up
The second chapter is all about keeping up with the techo, and it's filled with real-life examples of people using their techos every day. There's a look at how Japan's top rugby player uses his techo as a rugby notebook, and another about how a popular Instagrammer turned the techo into a household account book. We'll introduce all kinds of ways you can incorporate the techo into your LIFE, for hobbies, work, parenting, or home organization. We've even included usage examples for the bonus pages!
Hobonichi Techo Usage Encyclopedia Chapter 3: Mastering
We also feature some advanced Hobonichi Techo users with techniques you'll fall in love with, and talk to users with incredible stationery collections. Manga artist Shinichiro Nariie, who illustrates a techo about MOTHER and has already filled two Day-Free books in six months, makes an appearance.
This year we've also got a section called "Masters of the Ages," where we check in with ten users who have been featured in previous guidebooks. Just looking at all the unique ideas in this chapter is a lot of fun.
Hobonichi Techo Lineup Catalog 2021
Here we introduce the full lineup of Hobonichi Techo 2021 covers and Weeks books. This year's guidebook splits the covers into 11 different themes, including perennial options, character covers, fabric and leather covers, and more. We hope this new catalog style makes it even easier to choose your 2021 techo.
Shigesato Itoi Interview & Hobonichi Techo Full Cover History From 2002 to 2020
There's lots more to see in the guidebook, too. The Hobonichi cover history shows every cover ever made, from 2002 to 2020—that's a staggering 1065 different types! Shigesato Itoi describes his feelings on the occasion of the techo reaching its 20th anniversary. There's also some great features collecting answers from the Hobonichi Techo 2020 survey, including "A Hobonichi Techo Glossary" and "This Is In My Hobonichi Techo."
This book is the product of everyone who's contributed to any of the guidebooks we've made so far. Arriving as part of the 20th edition of the Hobonichi Techo, it feels very special. If you see it at a bookstore, take a peek!

*Sales of the Hobonichi Techo Official Guidebook 2021 will begin on August 25th, 2020 at bookstores across Japan, Loft stores, Hobonichi's Tobichi shops, Hobonichi CultureN, and Amazon. Sales on the online Hobonichi Store will begin on September 1st, 2020.
Hobonichi Techo Official Guidebook 2021Publisher: Magazine House
Price: 1,600 yen + taxISBN 978-4-8387-3113-8
*For information on bookstores carrying this book, please contact the Magazine House Orders Center (049-275-1811) (Japanese only)